Meet the Newbies is a blog event dedicated to introducing you to the "newbie" published debut authors. In this event, expect to learn more about the authors, their books, and silly fun facts! Check out the full Meet the Newbies lineup
here
.
I am
so
excited to read Traci's debut. I love the premise, and there are PIRATES. I am sold! Here's Tracichee! ;)
Author Most Likely to Be Reincarnated as a Border Collie
Nickname: Tracichee! (Okay, yes, this is just my full name mushed together and spoken very quickly, but I find it remarkable because numerous people from different friend groups at different points in my life have all magically seized upon saying my name just this way [with just this exclamation!], and I think that's a beautiful bit of kismet.)
First Day of School: September 13, 2016
Extracurricular Activities: Hiking, crafting, egg-painting, dog-walking
Favorite Class: English, of course! (Art is a close second.)
Favorite Quote/Motto: "I have always believed the great artists are the ones who dare to
entitle
to
beauty
things so natural that when they're seen afterward people say: Why did I never realize before that this too was beautiful?" - André Gide
Interview:
1. Describe your book in 5 words.
Revenge, magic, assassins, pirates, books!
2. If you lived in a world where reading suddenly became illegal, how would you respond? What would you do?
Oh gosh, I would be so lost if reading was illegal! I imagine I'd either end up stealing books like Liesel from
The Book Thief
, or running away from society like Granger in
Fahrenheit 451
. He actually has a lot in common with the people in
The Reader
, because without the ability to write their stories down, they must constantly retell them to keep them alive.
3. What is your favorite element in "The Reader"? (I hear there are pirates!!)
You've heard right! The world of
The Reader
is populated with gunslinging, adventure-loving sailors known as "outlaws." Part-pirate, part-cowboy, they're rough-and-tumble folks who choose the freedom of the sea over a safer, quieter life on land. They spend their days chasing treasure, monsters, and whatever lies in wait beyond the horizon.
4. Can you describe the Pitch Wars experience? How has it affected your writing and career?
I am so grateful to have been a part of Pitch Wars, because it has seriously changed my life. This online writing contest is run by the inimitable Brenda Drake, who gives unagented writers the chance to be mentored by publishing pros. With the help of their mentors, Pitch Wars "mentees" revise their manuscripts for two whole months until the agent round, when Brenda enlists a great group of literary agents to look at the mentees' pitches and first pages and (hopefully) make requests.
While the contest itself was amazing, the
best
thing about being in Pitch Wars is the community of people I've found. I was so, so fortunate to be chosen as Renée Ahdieh's mentee in Pitch Wars 2014, because she not only helped me whip
The Reader
into shape, but she's also become an incredible friend. My fellow mentees from that year have also formed the most loyal, supportive group of writers I've ever met. I can't even imagine making this journey without them!
5. I absolutely love the cover of your book. There are so many fascinating details! Can you explain the cover design process?
Thank you so much! I'm absolutely thrilled with how the cover came out, and it's completely due to the genius of Art Director Deborah Kaplan, Designer Kristin Smith, and Illustrator Yohey Horishita. The first time I saw Yohey's work on
http://yoheyhorishita.com/
, I was completely entranced by the levels of detail and sophistication and beauty in his art, and I knew that he would be able to perfectly capture the feeling of
The Reader
. And I wasn't wrong! It was amazing seeing how he worked together with Deborah and Kristin to come up with the art you see on the cover: the unfurling book pages dappled with waves, jungle flowers, and stars, which reflect the different settings and storylines with exquisite touches and colors that only Yohey could bring to this work!
6. What was the hardest part of writing your novel? The easiest?
The easiest part of writing
The Reader
was definitely coming up with the idea, "What if reading was actual magic?" Everything else--Sefia, the book, the murder of her father and the kidnapping of her aunt, the pirates and assassins--flowed from there.
The hardest part was, well, writing it!
The Reader
has a big cast of characters and is filled with intersecting plotlines, stories inside of stories, and parallel timelines, and weaving all of those disparate parts together in a way that felt compelling and interesting was tough! But I love a good challenge, and I had a blast trying to make it all work.
7. If Sefia suddenly appeared on your doorstep, how would you respond? What would you two do together?
If Sefia suddenly appeared on my doorstep, I would slam the door and run! She's deadly and driven by revenge, and after what I put her through in
The Reader
, I would not be surprised if she was out for my blood. If I could talk her down, though, I'd love to go camping with her. She's so capable, and fiercely loyal to the people she's with, and I think after our initial confrontation, she and I could have a good long weekend hiking, listening to the sound of the wind in the trees, and telling stories by the campfire.
About the Book: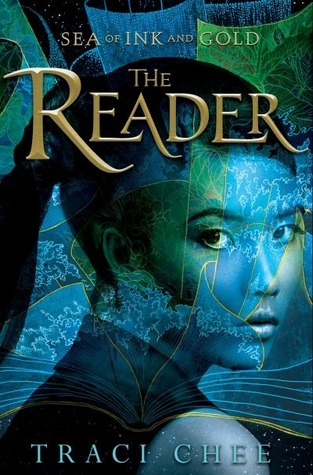 Sefia knows what it means to survive. After her father is brutally murdered, she flees into the wilderness with her aunt Nin, who teaches her to hunt, track, and steal. But when Nin is kidnapped, leaving Sefia completely alone, none of her survival skills can help her discover where Nin's been taken, or if she's even alive. The only clue to both her aunt's disappearance and her father's murder is the odd rectangular object her father left behind, an object she comes to realize is a book—a marvelous item unheard of in her otherwise illiterate society. With the help of this book, and the aid of a mysterious stranger with dark secrets of his own, Sefia sets out to rescue her aunt and find out what really happened the day her father was killed—and punish the people responsible.
Book Buy Links:
Goodreads
|
Amazon
|
Barnes and Noble
About the Author:
Traci Chee is an author of speculative fiction for teens. An all-around word geek, she loves book arts and art books, poetry and paper crafts, though she also dabbles at piano playing, egg painting, and hosting potluck game nights for family and friends. She studied literature and creative writing at UC Santa Cruz and earned a master of arts degree from San Francisco State University. Traci grew up in a small town with more cows than people, and now feels most at home in the mountains, scaling switchbacks and happening upon hidden highland lakes. She lives in California with her fast-fast dog. The Reader is her YA debut.
Social Media Links:
Website
|
Twitter
|
Goodreads
|
Facebook
|
Tumblr
a Rafflecopter giveaway
Have you read this book? Why are you excited to read it? What would you do if you lived in a world WITHOUT reading?!