The Square Root of Summer
by Harriet Reuter Hapgood is a book that has gained lots of attention in the bookish industry and had a huge bidding war at auction. I love the idea of mixing time travel and physics. For these reasons I instantly grew an interest in this book.
Today as part of the blog tour, I was asked to answer a series of questions in late February and answer them again in early May to see the difference in my responses and how I've grown in that time.
The Questions:
What Brings You The Most Joy In Life?
Feb/March 2016: Reading! Blogging! Friends!
May 2016: Working! It's actually really fun.
What Are You Reading?
Feb/March 2016: Into the Dim by Janet B. Taylor
May 2016: Ruined by Amy Tintera

What Is Something You're Really Looking Forward To?
Feb/March 2016: Finding out what college I'm going to next year!
May 2016: Going to college!! AHH PENN STATE SO EXCITED #WEARE.

What Is One Thing That's Worrying You?
Feb/March 2016: COLLEGE. LIFE. EVERYTHING.
May 2016: Getting my license. Can I just get it already? Parents don't want me driving because driving is "unsafe" in the area, and I'm going to college soon anyway… But I still want to get it just in case!!
What Is Something That You Always Have With You?
Feb/March 2016: A book
May 2016: My wallet
What Is Something That You Wish You Could Change?
Feb/March 2016: My outlook on school.
May 2016: Change my hair part! I just got my hair trimmed and I got a side part in my hair to spruce things up. Not a good idea, all the hair is getting in my face now xD #regrets
This past year has really put me through the wringer. Among plagiarism, spoofing, college, and problems in my family, it's been quite an interesting time. I spent so much of the past few months focused on college and this one fixed plan I had in mind since 5th grade. I've learned in the past few months that plans change, and sometimes it's for the better. Things happen for a reason, and not everything is in your control. All you can control is your response and your outlook on life. Now I'm happier and lighter than ever! Life is looking good :)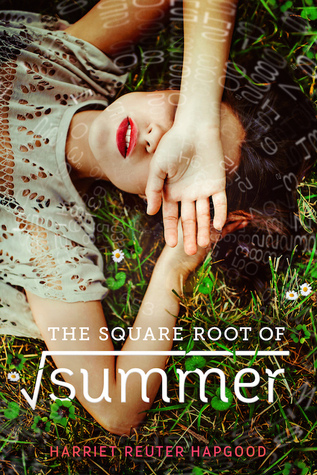 Gottie H. Oppenheimer is losing time. Literally. When the fabric of the universe around her seaside town begins to fray, she's hurtled through wormholes to her past:
To last summer, when her grandfather Grey died. To the afternoon she fell in love with Jason, who wouldn't even hold her hand at the funeral. To the day her best friend Thomas moved away and left her behind with a scar on her hand and a black hole in her memory.
Although Grey is still gone, Jason and Thomas are back, and Gottie's past, present, and future are about to collide—and someone's heart is about to be broken.
Book Buy Links:
Goodreads
|
Amazon
|
Barnes and Noble
About the Author:
Harriet Reuter Hapgood is a freelance fashion journalist and author of THE SQUARE ROOT OF SUMMER (coming May 2016). Her first-ever professional writing credit was for Just Seventeen magazine, and she's been YA obsessed ever since. She likes burritos, cats, Gwyneth Paltrow and young adult fiction, which she plans to write more of, though she's also considering a PhD in Dawson's Creek. Follow her on Twitter: @hapgoodness and on Instagram: @hapgo0dness if you like pictures of cats
Social Media Links:
Website
|
Twitter
|
Goodreads
|
Instagram
|
Tumblr
|
Pinterest
Rachel is a teenaged unapologetic fangirl and perfectionist.
She loves reading for the escape it gives from reality and enjoys crying over books, swooning over characters, and laughing out loud over funny lines. She is a semi-recovering Netflix addict and a middle child of three.
You can find her on Twitter
@yaperfectionist
&
Goodreads
.