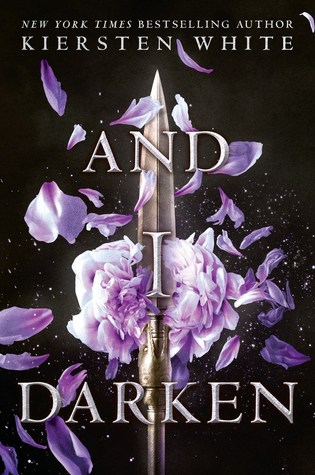 Author: Kiersten White
Series: The Conquerors Saga #1
Genre: YA Historical/Fantasy
Page Length: 496 Pages
Publication Date: June 28th, 2016
Publisher: Delacorte Press
Source: ARC
Goodreads | Amazon
NO ONE EXPECTS A PRINCESS TO BE BRUTAL.

And Lada Dragwlya likes it that way. Ever since she and her gentle younger brother, Radu, were wrenched from their homeland of Wallachia and abandoned by their father to be raised in the Ottoman courts, Lada has known that being ruthless is the key to survival. She and Radu are doomed to act as pawns in a vicious game, an unseen sword hovering over their every move. For the lineage that makes them special also makes them targets.

Lada despises the Ottomans and bides her time, planning her vengeance for the day when she can return to Wallachia and claim her birthright. Radu longs only for a place where he feels safe. And when they meet Mehmed, the defiant and lonely son of the sultan, who's expected to rule a nation, Radu feels that he's made a true friend—and Lada wonders if she's finally found someone worthy of her passion.

But Mehmed is heir to the very empire that Lada has sworn to fight against—and that Radu now considers home. Together, Lada, Radu, and Mehmed form a toxic triangle that strains the bonds of love and loyalty to the breaking point.
Once again my views on a highly anticipated book departs from the majority. Sadly "And I Darken" promised more than it gave and left me bored and wanting to pick a new read.
This book plays itself to be dark and gritty, vicious and ruthless to the core, but it didn't feel like "Game of Thrones" as pitched. It felt like the author was trying too hard to be dark and bloody with random (and not even many) scenes showing the cruelty of the Ottoman Empire.
The characterization was stellar though. I might not have liked any of the characters, but I completely understood them and empathized with their troubles. Lada faces limitations because of her gender so often, and I love the feminist ideas and unapologetic badass nature she exudes. She's constantly underestimated, and I loved seeing her surprise and impress others. Radu is the gentler soul who has a way with people. Mehmed struggles not to crumble under the pressure and conflicts surrounding his ascension to the throne.
I love the idea of a fantasy novel inspired by the Ottoman Empire. I just wish that the history was more fully explained. I felt some vital parts were excluded from the story that would have made things much simpler to comprehend. Especially Mehmed's obsession with Constantinopole.
The romance is one I foresaw early on, and I shipped it at times. I was marginally invested in the romantic development from the beginning of the book, but it's clear by the end that Lada will never let the happily ever after unfold. She complicates things too much, and her pride and stubborn nature will not let her yield to contentment.
The writing in this book is beautiful and flows elegantly. The pacing is unbelievably slow, and although I usually love stories with political conflict and people grappling for power, the components of this story all together just did not work for me.
Rachel is a teenaged unapologetic fangirl and perfectionist.
She loves reading for the escape it gives from reality and enjoys crying over books, swooning over characters, and laughing out loud over funny lines. She is a semi-recovering Netflix addict and a middle child of three.
You can find her on Twitter
@yaperfectionist
&
Goodreads
.