I was thrilled when the lovely bloggers of
YA Reads
asked me to join their 2016 Debut Bash and host the inimitable and glorious Erin Summerill, author of
Ever the Hunted
. Check out the full schedule
here
.
I love both Erin and her debut novel. To pull from my review: "Ever the Hunted is a gorgeous, sweeping fantasy novel that I quickly sped through. Erin weaves a story rife with intrigue and magical components that draw readers in from the start." - Rachel
About the Book: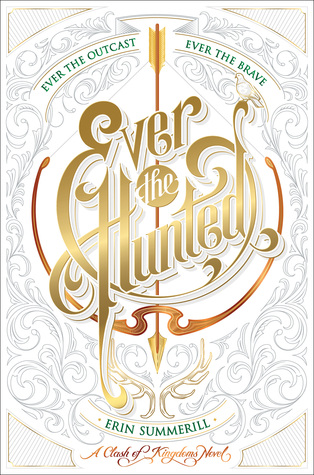 Author: Erin Summerill
Series: Clash of Kingdoms #1
Genre: YA Fantasy
Page Length: 400 Pages
Publication Date: December 27, 2016
Publisher: HMH Books for Young Readers
Source: eARC
Goodreads | Amazon
Seventeen year-old Britta Flannery is at ease only in the woods with her dagger and bow. She spends her days tracking criminals alongside her father, the legendary bounty hunter for the King of Malam—that is, until her father is murdered. Now outcast and alone and having no rights to her father's land or inheritance, she seeks refuge where she feels most safe: the Ever Woods. When Britta is caught poaching by the royal guard, instead of facing the noose she is offered a deal: her freedom in exchange for her father's killer.

However, it's not so simple.

The alleged killer is none other than Cohen McKay, her father's former apprentice. The only friend she's ever known. The boy she once loved who broke her heart. She must go on a dangerous quest in a world of warring kingdoms, mad kings, and dark magic to find the real killer. But Britta wields more power than she knows. And soon she will learn what has always made her different will make her a daunting and dangerous force.
About the Author:
Erin Summerill was born in England. After spending years bouncing between Air Force bases in Hawaii, England, and California, her family settled in Utah, where Erin graduated with a B.A. in English from Brigham Young University. She had aspirations to write the next great American novel, but writing proved tougher than she first thought. So she grabbed a Nikon and became a professional photographer while crafting manuscript after manuscript. The scenic detour of shooting weddings across the United States, as well as internationally, provided world-building inspiration. It gave her the vision to draft her debut YA fantasy, EVER THE HUNTED. Now when she isn't writing, or shooting a wedding, she's chasing her four kids, two dogs, one cat, and five chickens. This could be why she downs massive amounts of Coke Zero and Hot tamales.

You can follower her on twitter: @erinsummerill
Website
|
Goodreads
|
Twitter
|
Instagram
|
Facebook
|
Pinterest
Erin is generously giving away a signed ARC of her book and book swag to one lucky US resident. ENTER!!!
a Rafflecopter giveaway