Meet the Newbies is a blog event dedicated to introducing you to the "newbie" published debut authors. In this event, expect to learn more about the authors, their books, and silly fun facts! Check out the full Meet the Newbies lineup
here
.
Jeff is a hilarious person and an exceptional author. If you do not follow him on Twitter then you are definitely missing out! Presenting... Jeff Zentner!
Author Most Likely to Make a Joke That He Privately Laughs at Until His Sides Ache and Literally Not One Other Person Finds Funny
First Day of School: March 8, 2016
Homeroom: Crown/Random House
Extracurricular Activities: Brooding, auto repair, cross-stitch
Favorite Class: Swordplay
Favorite Quote/Motto: "Fool me once, shame on you. Fool me twice...you can't fool me again."
Interview:
1. Describe your book in 5 words
You're more than you think.
2. Did you have any input in the cover design process? What is your favorite element on the cover?
I did get to send my editor and cover designer some examples of favorite covers, and they solicited my input on designs. Ultimately, the decision was theirs and more specifically, in the hands of what the sales and marketing folks thought would work. My favorite element on the cover is the title font. It's a gorgeous font and the scale effect is really stunning. I have it tattooed on my left forearm, I loved it so much.
3. How has your upbringing influenced your writing?
I grew up with wonderful parents who really did a lot to encourage me generally, but more specifically, with reading. It was reading that made me want to become a writer. Also, my upbringing brought me in contact with a lot of people whose lives were very different from mine--in many ways worse--and it helped me develop empathy and a curiosity in the lives of others.
4. What do you hope people take away from reading your story?
That there are many ways to live a life of courage and nobility; that your life is yours to live and not for someone to dictate to you; that sometimes you need to pave the road you use to leave an old life behind.
5. Can you tell readers anything about your latest WIP?
I'm just going to give you the jacket copy, because it's so much more eloquent than I am:
"What if you could spend one last day with someone you lost?
One day Carver Briggs had it all—three best friends, a supportive family, and a reputation as a talented writer at his high school, Nashville Academy for the Arts.
The next day he lost it all—when he sent a simple text to his friend Mars, right before he, Eli, and Blake were killed in a car crash.
Now, Carver can't stop blaming himself for the accident and he's not the only one. Eli's twin sister is trying to freeze him out of school with her death-ray stare. Even worse, Mars's father, a powerful judge, pressures the district attorney to open a criminal investigation into Carver's actions.
Luckily, Carver has some unexpected allies: Eli's girlfriend, the only person to stand by him at school; Dr. Mendez, his new therapist; and Blake's grandmother, who asks Carver to spend a Goodbye Day with her to share their memories and say a proper goodbye to his friend.
Soon the other families are asking for a Goodbye Day with Carver—but he's unsure of their motives. Will they all be able to make peace with their losses, or will these Goodbye Days bring Carver one step closer to a complete breakdown or even worse, prison?"
About the Book: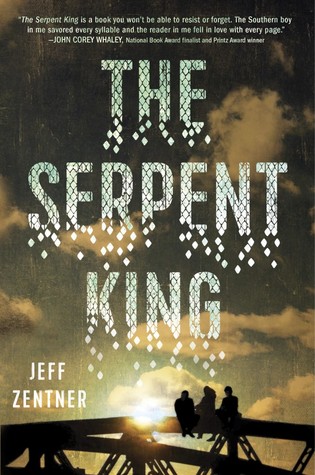 Dill has had to wrestle with vipers his whole life—at home, as the only son of a Pentecostal minister who urges him to handle poisonous rattlesnakes, and at school, where he faces down bullies who target him for his father's extreme faith and very public fall from grace.
He and his fellow outcast friends must try to make it through their senior year of high school without letting the small-town culture destroy their creative spirits and sense of self. Graduation will lead to new beginnings for Lydia, whose edgy fashion blog is her ticket out of their rural Tennessee town. And Travis is content where he is thanks to his obsession with an epic book series and the fangirl turning his reality into real-life fantasy.
Their diverging paths could mean the end of their friendship. But not before Dill confronts his dark legacy to attempt to find a way into the light of a future worth living.
Buy Links:
Goodreads
|
Amazon
|
Barnes and Noble
About the Author:
Jeff Zentner lives in Nashville, Tennessee. He came to writing through music, starting his creative life as a guitarist and eventually becoming a songwriter. He's released five albums and appeared on recordings with Iggy Pop, Nick Cave, Warren Ellis, Thurston Moore, Debbie Harry, Mark Lanegan, and Lydia Lunch, among others.
Now he writes novels for young adults. He became interested in writing for young adults after volunteering at the Tennessee Teen Rock Camp and Southern Girls Rock Camp. As a kid, his parents would take him to the library and drop him off, where he would read until closing time. He worked at various bookstores through high school and college.
He speaks fluent Portuguese, having lived in the Amazon region of Brazil for two years.