I love learning about the latest book deals, and APCB Adds is a feature where I share my latest
Goodreads
book additions. These posts will introduce you to books coming out in the future, ones you can look forward to!
when a 16-year-old orphan discovers the real reason she is claimed against her will by a tyrant rajah, she turns to practitioners of a forbidden magic to help her and her best friend escape before being forced to fight in an age-old tournament to the death to take her place as the rajah's one hundredth queen.
"Forbidden magic", "age-old tournament" and "queen". Need I say more?
In a steampunk version of 19th-century Italy, seventeen-year-old Elsa has the ability to write new worlds into existence. She must enlist the help of a secret order and a handsome mechanist to rescue her mother and protect a dangerous object--a book with the power to edit the real world.
SO MUCH NEED. I love steampunk and the setting!
Literally by Lucy Keating - Harper Collins April 11, 2017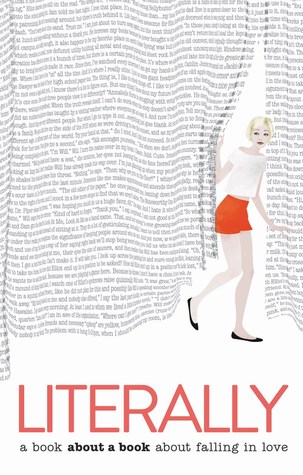 A girl realizes her life is being written for her in this unique, smart love story that is Stranger Than Fiction for fans of Stephanie Perkins.

Annabelle's life has always been Perfect with a capital P. Then bestselling young adult author Lucy Keating announces that she's writing a new novel—and Annabelle is the heroine.

It turns out, Annabelle is a character that Lucy Keating created. And Lucy has a plan for her.

But Annabelle doesn't want to live a life where everything she does is already plotted out. Will she find a way to write her own story—or will Lucy Keating have the last word?
I loved Lucy Keating's debut, Dreamology, and I really want to read her sophomore novel! I also really enjoyed the movie Stranger than Fiction, which this book seems comparable to.
Isle of Blood and Stone by Makiia Lucier - Houghton Mifflin Harcourt Spring 2018
A fantasy about three young royals following clues from mysterious maps to find their kingdom's long-lost princes. The story is set in a medieval world populated by scheming members of court, fearless explorers, deadly water serpents, and creepy forest ghosts.
YES TO EVERYTHING IN THIS PITCH.
The Green Well by Margaret Rogerson - Margaret K. McElderry Books 2017
The Green Well, about a talented artist who paints portraits for a dangerous clientele: the fair folk. When a portrait angers a fairy prince she undertakes a journey that will lead to her death or the loss of her art, unless she can use her talent in way the fair folk have never seen before.
I love the idea of artists working for the dangerous fae.
The Last Thracian chronicles the rise of legendary freedom-fighter Spartacus, re-imagined here as an orphaned 17-year-old warrior princess and scion of the annihilated kingdom of Thrace.
Say no more! I'm sold.
The Upside of Unrequited by Becky Albertalli - Harper Collins April 11, 2017
What does a sixteen-year-old girl have to do to kiss a boy? Molly Peskin-Suso wishes she knew. She's crushed on twenty-six guys…but has kissed exactly none. Her twin sister Cassie's advice to "just go for it" and "take a risk" isn't that helpful. It's easy for her to say: she's had flings with lots of girls. She's fearless and effortlessly svelte, while Molly is introverted and what their grandma calls zaftig.

Then Cassie meets Mina, and for the first time ever, Cassie is falling in love. While Molly is happy for her twin, she can't help but feel lonelier than ever. But Cassie and Mina are determined to end Molly's string of unrequited crushes once and for all. They decide to set her up with Mina's friend Will, who is ridiculously good-looking, flirty, and seems to be into Molly. Perfect, right? But as Molly spends more time with Reid, her cute, nerdy co-worker, her feelings get all kinds of complicated. Now she has to decide whether to follow everyone's advice…or follow her own heart.
Becky is a wonderful person and author, and I'm so excited to read her second book!
Goodbye Days by Jeff Zentner - Crown Books for Young Readers March 7, 2017
Carver Briggs never thought a simple text would cause a fatal crash, killing his three best friends, Mars, Eli, and Blake. But now Carver can't stop blaming himself for the accident and even worse, a powerful judge is pressuring the district attorney to open up a criminal investigation.

Luckily, Carver has some unexpected allies: Eli's girlfriend, the only person to stand by him at school; Dr. Mendez, his new therapist; and Blake's grandmother, who asks Carver to spend a "goodbye day" together to share their memories and say a proper farewell.

Soon the other families are asking for their own goodbye day with Carver—but he's unsure of their motives. Will they all be able to make peace with their losses, or will these Goodbye Days bring Carver one step closer to a complete breakdown or—even worse—prison?
This poignant book will definitely charm readers, I want to read it so badly!!
Which book are you most looking forward to from the list?
What books have you recently added to your TBR?
Rachel is a teenaged unapologetic fangirl and perfectionist.
She loves reading for the escape it gives from reality and enjoys crying over books, swooning over characters, and laughing out loud over funny lines. She is a semi-recovering Netflix addict and a middle child of three.
You can find her on Twitter
@yaperfectionist
&
Goodreads
.