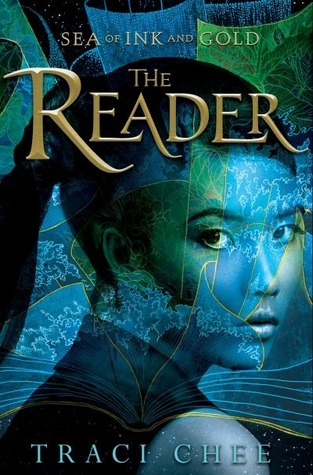 Author: Traci Chee
Series: Sea of Ink and Gold #1
Genre: YA Fantasy
Page Length: 448 Pages
Publication Date: September 13th, 2016
Publisher: Putnam
Source: ARC
Goodreads | Amazon
Sefia knows what it means to survive. After her father is brutally murdered, she flees into the wilderness with her aunt Nin, who teaches her to hunt, track, and steal. But when Nin is kidnapped, leaving Sefia completely alone, none of her survival skills can help her discover where Nin's been taken, or if she's even alive. The only clue to both her aunt's disappearance and her father's murder is the odd rectangular object her father left behind, an object she comes to realize is a book—a marvelous item unheard of in her otherwise illiterate society. With the help of this book, and the aid of a mysterious stranger with dark secrets of his own, Sefia sets out to rescue her aunt and find out what really happened the day her father was killed—and punish the people responsible.
Layered with mellifluous writing, meticulous plotting, and mysterious clues, The Reader brings a reading experience like no other. This book is impressive and mind blowing and will fascinate and charm Readers from the very beginning to the all-revealing end.
As a Reader, imagining a world without reading sounds like such a miserable life I'd rather not live. Traci Chee paints this world in such an absorbing way that really pulls you in and makes you want to explore. The idea of storytelling is so prevalent in The Reader's world because it is the only way people are remembered, through people telling their stories. Traci ingeniously parallels this element by telling Readers a story that shouldn't be forgotten, a story of a girl's quest to find answers about her parents sprinkled in with a mix of other fascinating stories and characters that cross paths with hers.
The characters in this book have such blind determination and tenacity, which were both admirable and frustrating. I love Sefia's determination to save her aunt and find the people who murdered her father, but sometimes she didn't really think things through before charging ahead. It definitely lands her into some avoidable issues! Archer is a unique and highly interesting character with an extensive and painful history. His character was so well developed, and there is definitely something that will set him apart from other male leads in books.
One element that quickly caught my eye was the addition of PIRATES. I love the idea of pirates in books, and their addition to this book was seamless and didn't seem frivolous at all. They are infused with the main plot in such an exciting way. I loved learning about their crazy adventures and the individual personalities of the outgoing and lovable crew.
Traci's writing is easily one of my favorites. Her diction is superb yet not too verbose, and the writing is so descriptive and flows beautifully. Her lines are rife with artistic creativity and themed meanings. I had a bit of a problem with the pacing of the book near the beginning. I was curious about everything going on, but I didn't feel super engaged until 200 pages in.
More commendable aspects include Traci's spectacular and meticulous plotting. You know how some books have an ah-ha moment? This book has multiple! Everything is connected, every various point of view, each clue. This book has hints and clues hidden among the pages and spine as well as an extensive map and more cool details that make this book quite a fun and encompassing reading experience.
The magic in this book is exciting and awe-inducing, and I really liked how Traci explained and described it. The magical book in The Reader is also pretty awesome. The magic in this book is definitely comparable to Shadow and Bone's grisha, but it is still its own thing.
I would recommend this book to fantasy readers who are in the mood for a book with beautiful writing, intricate and connecting subplots, and a slow but necessary buildup to an explosive end.
Rachel is a teenaged unapologetic fangirl and perfectionist.
She loves reading for the escape it gives from reality and enjoys crying over books, swooning over characters, and laughing out loud over funny lines. She is a semi-recovering Netflix addict and a middle child of three.
You can find her on Twitter
@yaperfectionist
&
Goodreads
.