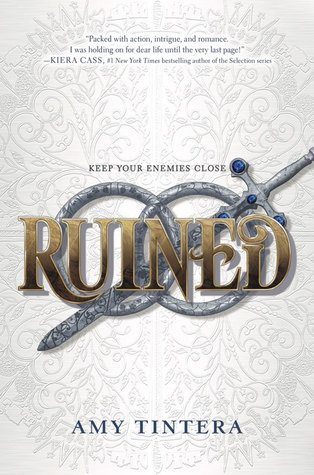 Author: Amy Tintera
Genre: YA Fantasy | Romance
Page Length: 368 Pages
Publication Date: May 3rd 2016
Publisher: HarperTeen
Source: Edelweiss
A revenge that will consume her. A love that will ruin her.




Emelina Flores has nothing. Her home in Ruina has been ravaged by war. She lacks the powers of her fellow Ruined. Worst of all, she witnessed her parents' brutal murders and watched helplessly as her sister, Olivia, was kidnapped.




But because Em has nothing, she has nothing to lose. Driven by a blind desire for revenge, Em sets off on a dangerous journey to the enemy kingdom of Lera. Somewhere within Lera's borders, Em hopes to find Olivia. But in order to find her, Em must infiltrate the royal family.




In a brilliant, elaborate plan of deception and murder, Em marries Prince Casimir, next in line to take Lera's throne. If anyone in Lera discovers Em is not Casimir's true betrothed, Em will be executed on the spot. But it's the only way to salvage Em's kingdom and what is left of her family.




Em is determined to succeed, but the closer she gets to the prince, the more she questions her mission. Em's rage-filled heart begins to soften. But with her life—and her family—on the line, love could be Em's deadliest mistake.
Ruined sounded epic, even before I started it. It seemed like the perfect high fantasy book - royal settings, powerful magic, gray characters, a kick ass heroine, a forbidden romance and lots and lots of scheming, betrayals, revelations and action. And let me tell you that in the end, Ruined delivered all of that, and more, and has totally become one of my favourite reads of 2016!
The story follows Em, the princess of the Ruined - people who can wield powerful and deadly magic - who has been defeated and exiled by the people of Lera, normal humans, who've had enough of the Ruined magic and control over them. With revenge on her mind, and determination in her heart, Em sets out on a dangerous and cunning mission, and manages to step into the palace of Lera, and it's prince's heart - the first being intentional, and the latter, totally unintentional.
Em was everything I love in a fantasy heroine! Not only was she strong, smart, sassy and a badass, she was also ruthless and as morally ambiguous as YA heroines come. She isn't willing to step down on her revenge and mission at any cost, and she had my vote and heart from the first chapter itself!
Cas was just adorable! His dry humour and eternal confusion was so endearing, while I also loved how perfectly contrasting to Em he was. They were just so perfect for each other! At times, Cas and Em reminded me of Katsa and Po from Graceling! Plus their romance was hate to love at its finest! I adored it!
I really loved the world building of Ruined. I've always been fascinated with worlds where the powerful are oppressed, and that scenario was perfectly portrayed in the book. And everything and everyone was morally ambiguous in Ruined, and I just loved it! Throughout the entire story, the readers can never pick and stick to a side or nation. It's complicated and gloriously gray!
Overall, I would totally recommend Ruined to all fantasy fans! It's action packed, well developed, sassy and just amazing! I can't wait to read the next episode of Cas and Em's adventures, and get to know more about the Ruined and their powers!
Mishma is a 17 year old teenager from Sri Lanka who's always loved books and talking about them. She often comes off as a loud, outgoing, funny, hyperactive and happy go lucky girl! Her addictions include books, Twitter and Buzzfeed and she has an unapologetic love for classic old movies with uncensored violence and villains with a vulnerable side.
You can find her at her own
blog
,
Twitter
,
Instagram
. She loves making friends, so stop by to say a hi!