5 DAYS UNTIL HEARTLESS!!
The Challenge of the Day:
Share a picture of yourself with a rose to enter today's #HeartlessCountdown challenge!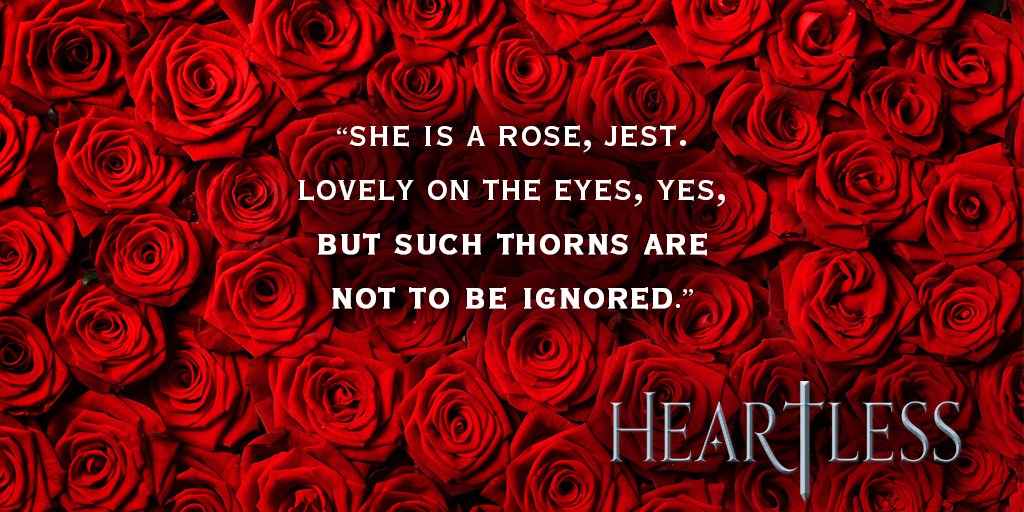 Completing the challenge: 5 DAYS TILL HEARTLESS! #HeartlessCountdown #sweepstakes [share photo with a rose]
Genre: YA Fantasy
Page Length: 464 Pages
Publication Date: November 8th, 2016
Publisher: Feiwel and Friends
Source: ARC via Publisher (thanks!)
Goodreads
|
Amazon
Long before she was the terror of Wonderland—the infamous Queen of Hearts—she was just a girl who wanted to fall in love.

Long before she was the terror of Wonderland, she was just a girl who wanted to fall in love. Catherine may be one of the most desired girls in Wonderland, and a favorite of the unmarried King of Hearts, but her interests lie elsewhere. A talented baker, all she wants is to open a shop with her best friend. But according to her mother, such a goal is unthinkable for the young woman who could be the next queen.

Then Cath meets Jest, the handsome and mysterious court joker. For the first time, she feels the pull of true attraction. At the risk of offending the king and infuriating her parents, she and Jest enter into an intense, secret courtship. Cath is determined to define her own destiny and fall in love on her terms. But in a land thriving with magic, madness, and monsters, fate has other plans.

In her first stand-alone teen novel, the New York Times-bestselling author dazzles us with a prequel to Alice's Adventures in Wonderland.
Marissa Meyer is one of my all-time favorite authors. She is a master at crafting fairytale retellings that both nod to the retelling yet still seem original and inventive at the same time. Her writing is so engaging and lyrical, and it captivates readers from the very start of this book to the devastating end.
Alice in Wonderland
is not my favorite fairytale, but Marissa Meyer has helped foster a newfound interest and appreciation for the story. I love how Marissa incorporated elements of
Alice in Wonderland
into
Heartless
in such a fresh way. It didn't seem like the elements were included as a gimmick, and I love how she let her imagination fill in the gaps to create the quaint kingdom of Hearts.We get to experience a tea party, see the hilarious and sassy Cheshire, and view many other spectacles of the land.
The characters in this book all have such strong and well-developed personalities. Cath was a likable main character, and I thought it was really sweet and genuine that all she wanted was to own a bakery and make sweets to bring others happiness. Although this story takes place in a world quite different from ours, it was so easy to sympathize with Cath and her plights. I just wanted Cath to get the happy ending she deserved! But alas, societal expectations always get in the way. Jest was so mysterious and kind, and I love the riddles he shared! Cheshire is so funny, and I loved that Marissa included him in the story. And then we have the aloof father, the bossy and social-climbing mother, and a childish king to round out the tale.
The romance was amazing and so easy to root for, and I connected with it immediately. We all know what the Queen of Hearts is like in
Alice in Wonderland
though, so it's relatively easy to assume that this ending is not a happy one.
Heartless
made me incredibly sad and devastated by the end, but the final chapter was amazing and reminds me why I love Marissa Meyer's books so much.
Rachel is a teenaged unapologetic fangirl and perfectionist.
She loves reading for the escape it gives from reality and enjoys crying over books, swooning over characters, and laughing out loud over funny lines. She is a semi-recovering Netflix addict and a middle child of three.
You can find her on Twitter
@yaperfectionist
&
Goodreads
.