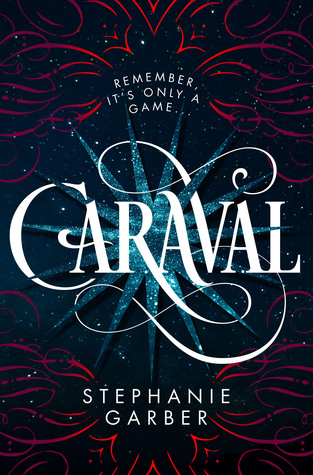 Author: Stephanie Garber
Genre: YA Fantasy
Page Length: 416 Pages
Publication Date: January 31, 2017
Publisher:
Flatiron Books
Source: ARC via publisher
Goodreads | Amazon
Welcome to Caraval, where nothing is quite what it seems.

Scarlett has never left the tiny isle of Trisda, pining from afar for the wonder of Caraval, a once-a-year week-long performance where the audience participates in the show.

Caraval is Magic. Mystery. Adventure. And for Scarlett and her beloved sister Tella it represents freedom and an escape from their ruthless, abusive father.

When the sisters' long-awaited invitations to Caraval finally arrive, it seems their dreams have come true. But no sooner have they arrived than Tella vanishes, kidnapped by the show's mastermind organiser, Legend.

Scarlett has been told that everything that happens during Caraval is only an elaborate performance. But nonetheless she quickly becomes enmeshed in a dangerous game of love, magic and heartbreak. And real or not, she must find Tella before the game is over, and her sister disappears forever
Utter perfection.
An exquisitely crafted story that lures you in by the title alone, Caraval is
a story of intrigue and love
like no other. This is definitely a book I'd recommend!
Scarlet will do anything to protect herself and her sister, Donatella, from her cruel father and even goes so far as to accept an arranged marriage with a man she's never met. Ever since she was a little girl, Scarlet's been fascinated by Caraval, a game filled with magical performers, a place of revelry and dreams and delights at every turn. When Donatella is kidnapped as part of the Caraval performance, Scarlet must play the game to find her sister.
Caraval was everything I wanted it to be and more. It's
alluring and mesmerizing
throughout. Stephanie creates such amazing concepts, and I love how deeply she explores and develops the magical components and the world of Caraval.
The game of Caraval itself is
rife with mischief and danger
. I loved the clues, the people, the places, the intrigue of it all. You can't trust anyone or anything in the game, especially your own eyes because they'll deceive you the most.
Stephanie's writing is so lyrical and captivating. Her way of describing things is unique and vivid and unlike any book I've ever read. The imagery is equally lovely. The story is fast-paced and layered with interconnecting subplots and strong themes.
Just as the Caraval performers make participants question what is real and fake, so does Stephanie with the readers. Readers begin to question their perceptions because
the second you think you know what's really going on, Stephanie pulls another twist
you never see coming. I was constantly surprised by the turns this book kept making because you can't rely on anyone or anything you think you know.
Scarlet is the protective older sister who'd do anything to save her sister. Her determination and love for her sister were evident, and I really love their relationship. Donatella, Tella for short, is the carefree younger sister who just wants to experience everything life has to offer.
There is a romance, one I cheered for throughout the novel. I won't say who the two are, but once you read, I'm sure you'll be as attached to them as I was!
Caraval was a magical experience, and I felt I was really in it. Stephanie has created
a masterpiece
that I think will take the YA crowd by storm. I highly recommend this to all readers who want to be
dazzled and potentially tricked
, someone who wants to keep guessing until the very end.
Giveaway:
I loved Caraval so much, I'm offering you lovely readers a chance to experience the magic! Enter the pre-order giveaway here. International. One entry per household.
a Rafflecopter giveaway
Rachel is a teenaged unapologetic fangirl and perfectionist.
She loves reading for the escape it gives from reality and enjoys crying over books, swooning over characters, and laughing out loud over funny lines. She is a semi-recovering Netflix addict and a middle child of three.
You can find her on Twitter
@yaperfectionist
&
Goodreads
.