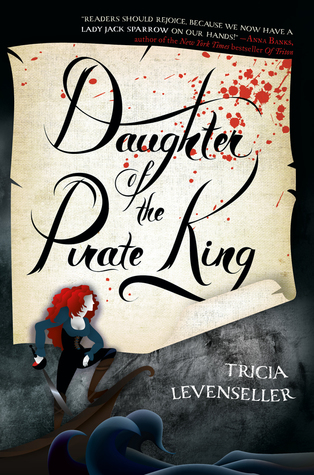 Author: Tricia Levenseller
Series: DotPK #1
Genre: YA Fantasy
Page Length: 320 Pages
Publication Date: February 28, 2017
Publisher:
Feiwel and Friends
Source: ARC via publisher
Goodreads | Amazon
A 17-year-old pirate captain intentionally allows herself to get captured by enemy pirates in this thrilling YA adventure.

Sent on a mission to retrieve an ancient hidden map—the key to a legendary treasure trove—seventeen-year-old pirate captain Alosa deliberately allows herself to be captured by her enemies, giving her the perfect opportunity to search their ship.

More than a match for the ruthless pirate crew, Alosa has only one thing standing between her and the map: her captor, the unexpectedly clever and unfairly attractive first mate, Riden. But not to worry, for Alosa has a few tricks up her sleeve, and no lone pirate can stop the Daughter of the Pirate King.
I always love a good pirate story, and this one did not disappoint.
Daughter of the Pirate King somehow managed to be both incredibly bloody and funny at the same time. I thoroughly enjoyed reading this book and I zipped through it in just a few hours. Alosa, daughter of the Pirate King, is sent on a mission to stage her own kidnapping by a specific crew of pirates so she can find a specific map on their ship. As she struggles to maintain her ruse, she finds the handsome and sharp first mate, Riden, watching her every move. And not all is as it seems onboard the ship.
Tricia's writing is delightful. She writes in such a smooth and slick fashion that readers will quickly devour. Her writing sparks with life, hilarity, and basically emits a personality of its own. I loved the sarcastic and humorous tone of the writing that allows Alosa's character to shine through. The pacing was quick throughout the book, and I basically loved every minute of reading this book. There was plenty of swashbuckling, swordplay, cannon blasts, and fights to give readers the pirate adventure novel they seek. The action sequences were exciting. Tricia also adds an interesting element to her story that I think readers will find as fascinating as I did. I'd say more, but I don't want to spoil you!
I wish there were more world-building, but I guess with a story at sea there isn't as much to share and describe. I would've liked to know more about the history, hierarchy, and rule of the Pirate King through. Although I guessed the twists in this book, it didn't really diminish my enjoyment of the story.
Alosa is so unapologetically badass in this book. She is the epitome of girl power and I love her confidence and strength and courage. She loves so fiercely but she also takes lives without an afterthought. Her competence and independence made her such an easy protagonist to admire. Riden is as swoony as I'd hoped he would be. We also meet a colorful cast of pirates to round out the story. A majority of the time is spent with these two characters though. I love the banter between Alosa and Riden. Their relationship is a battle of wits and the mind and I love their constant bickering. They had so many moments that made my heart swell.
Overall this book entertained me from start to finish and I will definitely be pre-ordering a finished copy! If you like badass main characters, sweet romance, and pirates then I recommend you check out this book.
Rachel is a teenaged unapologetic fangirl and perfectionist.
She loves reading for the escape it gives from reality and enjoys crying over books, swooning over characters, and laughing out loud over funny lines. She is a semi-recovering Netflix addict and a middle child of three.
You can find her on Twitter
@yaperfectionist
&
Goodreads
.