After reading all of the amazing Tsar's Guard spotlight posts, I am honored to finish off the tour with a review of The Crown's Game. This book far surpassed my expectations, and I ended up loving it even more than the first book!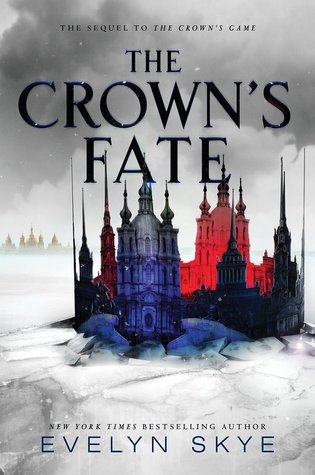 Author: Evelyn Skye
Series: The Crown's Game #2
Genre: YA Fantasy
Page Length: 432 Pages
Publication Date: May 16th, 2017
Publisher: Balzer + Bray
Source: ARC
Amazon
|
Barnes & Noble
|
Book Depository
|
Kepler's Books
Magic is growing, shadows are rising, and the throne is at stake…

Russia is on the brink of great change. Pasha's coronation approaches, and Vika is now the Imperial Enchanter, but the role she once coveted may be more difficult—and dangerous—than she ever expected.

Pasha is grappling with his own problems—his legitimacy is in doubt, the girl he loves loathes him, and he believes his best friend is dead. When a challenger to the throne emerges—and with the magic in Russia growing rapidly—Pasha must do whatever it takes to keep his position and protect his kingdom.

For Nikolai, the ending of the Crown's Game stung deeply. Although he just managed to escape death, Nikolai remains alone, a shadow hidden in a not-quite-real world of his own creation. But when he's given a second chance at life—tied to a dark price—Nikolai must decide just how far he's willing to go to return to the world.

With revolution on the rise, dangerous new magic rearing up, and a tsardom up for the taking, Vika, Nikolai, and Pasha must fight—or face the destruction of not only their world but also themselves.
As I write this review I'm sad to think that this beautiful story is over. Evelyn crafted a tale that perfectly meshed a love for Russian history with a vivid and magical imagination .
The Crown's Fate
is an addictive sequel that you will not want to stop reading once you've started.
Picking up shortly after the previous book,
The Crown's Fate
is decidedly darker in tone.
The Crown's Fate
deals with the chaos of shifting powers and contests to the throne. I really don't want to give away too much of the plot but know that revenge, power, desire, bad intentions, and mistakes stain the pages of this novel. Evelyn truly brought out the drama in this book, and readers will be left with no choice but to continue reading.
Evelyn's writing still continues to enchant readers just as well as the enchanters' magic in her books wow the people of Russia. The pacing of this book was better than the first book, and overall I just liked the flow better. And just as in the last book, Evelyn throws so many shocks, revelations, and plot twists into
The Crown's Fate
. I love all of the connections to Russian history that Evelyn included to ground the story.
I thought Evelyn did a great job fleshing out the characters and adding depth to their backstories. She really dug into their insecurities and backgrounds to make the plot work. There are many times when these characters will frustrate you to no end. They are burdened with the choices they've had to make, but deep down they're still the same lovable characters we know.
My favorite part of this novel by far is the magical sequences. The sheer intricacies and imagination that created these scenes still impresses me. I would love to see this book played out as a movie!
Overall I thoroughly enjoyed this sequel, and I think fans of the first book will as well.
About the Author:
Evelyn Skye is the New York Times bestselling author of THE CROWN'S GAME (out now!) and THE CROWN'S FATE (May 16, 2017). She was once offered a job by the C.I.A., she not-so-secretly wishes she was on "So You Think You Can Dance," and if you challenge her to a pizza-eating contest, she guarantees she will win. When Evelyn isn't writing, she can be found chasing her daughter on the playground or sitting on the couch, immersed in a good book and eating way too many cookies.
Author Links:
Twitter
|
Goodreads
|
Tumblr
|
Instagram
|
Facebook
Giveaway:
a Rafflecopter giveaway
Tour Schedule:
Jan. 9th -
Brittany's Book Rambles: Review
Jan. 10th-
Sarcasm & Lemons
: Fancast
Jan. 11th-
The YA Book Traveler
: History of Russian Crowns
Jan. 12th-
Picnic Reads
: Character Based Book Tag
Jan. 13th-
Book Nerd Addict
: Inspired Tote Design
Jan.16th-
Dazzled by Books
: Top 5 Reasons I Love The Crown's Game
Jan. 17th-
Rants and Raves of a Bibliophile
: Characters Matched to Teas
Jan. 18th-
The Book Buzz
: New Enchanter
Jan. 19th-
The Aus. Library
: Famous Russian Fairytales
Jan. 20th-
My Thoughts Literally
: Character Inspired Dessert
Jan. 23rd-
Omg Books and More Books
: Books that Characters of TCG would enjoy
Jan. 24th-
It Starts at Midnight
: Virtual Tour of Russia
Jan. 25th-
Next Page Please!
: Character Blog
Jan. 26th-
The Book Nut
: Playlist
Jan. 27th-
Arctic Books
: Makeup Looks
Jan. 30th-
Two Chicks on Books
: Pinterest Recipe Board
Jan. 31th-
Lost in Ever After
: Typical Date for Nikolai & Vika
Feb. 1st-
Alexa Loves Books
: Fashion Book Look
Feb. 2nd-
Sophie Reads YA
: Russian History In and Out of The Crown's Game
Feb. 3rd-
21st Century Once Upon A Times
: Drink Your Way Through The Crown's Game
Feb. 6th-
The Eater of Books
: 10 Reason I'm Excited for TCF
Feb. 7th-
A Thousand Words A Million Books
: Top 5 Magical Moves in The Crown's Game
Feb. 8th-
Seeing Double in Neverland
: Fanmade Bookmarks & Swag
Feb. 9th-
A Page With A View
: YA Fantasy Books set in Russia
Feb. 10th-
Dana Square
: Recipe from The Crown's Game
Feb. 13th-
YA Wednesdays
: Favorite Quotes from The Crown's Game
Feb. 14th-
Juniper Reads
: Sorting Characters into Fandoms
Feb. 15th-
Nicole's Novel Reads
: Nail Polish Looks
Feb. 16th-
The Queen Reads
: What the Characters of TCG would take to a Deserted Island
Feb. 17th-
A Perfection Called Books
: Review
Rachel is a teenaged unapologetic fangirl and perfectionist.
She loves reading for the escape it gives from reality and enjoys crying over books, swooning over characters, and laughing out loud over funny lines. She is a semi-recovering Netflix addict and a middle child of three.
You can find her on Twitter
@yaperfectionist
&
Goodreads
.