I am stoked to join the Flame in the Mist blog tour with a review! Renée's Wrath was easily one of my favorite 2015 debuts, and I loved her latest book just as much. Many thanks to Penguin Teen for putting together this tour.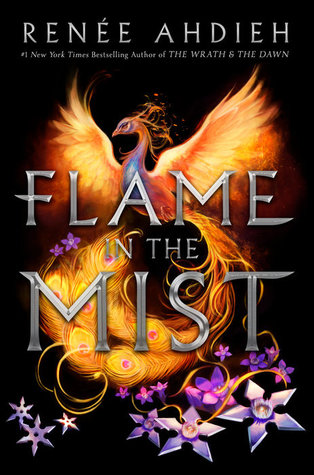 Author: Renee Ahdieh
Genre: YA Fantasy
Page Length: 416 pages
Publication Date: May 16th, 2017
Publisher: Putnam/Penguin
Source: Publisher
Goodreads
|
Amazon
The only daughter of a prominent samurai, Mariko has always known she'd been raised for one purpose and one purpose only: to marry. Never mind her cunning, which rivals that of her twin brother, Kenshin, or her skills as an accomplished alchemist. Since Mariko was not born a boy, her fate was sealed the moment she drew her first breath.

So, at just seventeen years old, Mariko is sent to the imperial palace to meet her betrothed, a man she did not choose, for the very first time. But the journey is cut short when Mariko's convoy is viciously attacked by the Black Clan, a dangerous group of bandits who've been hired to kill Mariko before she reaches the palace.

The lone survivor, Mariko narrowly escapes to the woods, where she plots her revenge. Dressed as a peasant boy, she sets out to infiltrate the Black Clan and hunt down those responsible for the target on her back. Once she's within their ranks, though, Mariko finds for the first time she's appreciated for her intellect and abilities. She even finds herself falling in love—a love that will force her to question everything she's ever known about her family, her purpose, and her deepest desires.
What a suspenseful tale! Fans of Renee Ahdieh will surely enjoy this novel as well. It has her usual doses of beautiful writing, sexy romance, wicked twists, secrets, lies, meticulous plotting, and magic.
Set in feudal Japan,"Flame in the Mist" centers on Mariko, a powerful samurai's daughter who is against her wishes betrothed to the emperor's second son. En route to the imperial city, her convoy is ambushed by the deadly Black Clan. After narrowly escaping the attack with her life, Mariko seeks revenge and answers by disguising as a boy and infiltrating the Black Clan's ranks. But not all is as it seems, and she begins to question everything.
Renee continues to enchant readers with her beautiful and wholly unique writing style. I will forever love the way that she constructs her sentences.
She adds a little flair and finesse to every sentence. The prose just meshed so well with the tale Renee crafted.
There was plenty of action to keep readers enthralled, but Mariko's attempts to ingratiate herself to the Black Clan were equally mesmerizing. There was so much drama and suspense woven into this tale to keep readers turning the pages.
I loved the setting of feudal Japan. So much of this book centers around honor and duty, and it was fascinating to see these characters struggle through their decisions, heavily weighed down by the Japanese ideals. One of Renee's strengths is her use of setting in her stories. Just as in "The Wrath and The Dawn",
Renee does an amazing job not only describing the surroundings but also incorporating it into her storyline.
In this book you'll experience the deadly Jukai forest filled with magical creatures and bloodthirsty trees.
Mariko is an inquisitive and stubborn main character.
Although this book is cast as a Mulan retelling, there are few similarities
besides disguising oneself as a man and the idea of bringing honor to your family. I loved Mariko's tenacity. She longs to be free of the caged life her father has planned for her and proves to show her worth beyond an advantageous union. This book is also highly feminist, which I LOVED.
I was expecting a bit more romance in this book, but Renee provided the perfect amount. It's not as heavy as "The Wrath and The Dawn", but it is certainly steamy and intense. And that is all I will say!
Like her previous novels, Renee told this story in third-person point of view, and it worked out well. Perspectives from secondary characters including Okami, Ranmaru, the emperor, and Kenshin. The secondary characters in this book all possess interesting backstories and backgrounds that include more secrets and cause more conflicts for the characters.
The only thing I didn't really like was
the lack of clarity.
There is magic present in this book, but every time it was brought up I was left so confused. I wish the magic were better described and more fleshed out.
This book was decidedly different from my expectations, but I loved in nonetheless.
Renee delivered a sumptuous story interwoven with so many secrets and lies and revelations to leave readers reeling and desperate for the second part in this duology.
Giveaway:
Enter for a chance to win one (1) of five (5) copies of Flame in the Mist by Renee Ahdieh (ARV: $17.99 each).
NO PURCHASE NECESSARY. Enter between

12:00 AM

Eastern Time on May 8, 2017 and

12:00 AM on June 5, 2017

. Open to residents of the fifty United States and the District of Columbia who are 13 and older. Winners will be selected at random on or about June 10, 2017. Odds of winning depend on number of eligible entries received. Void where prohibited or restricted by law.
a Rafflecopter giveaway
Schedule:
Have you read any of Renee's books? Are you excited for this one?
Rachel is a teenaged unapologetic fangirl and perfectionist.
She loves reading for the escape it gives from reality and enjoys crying over books, swooning over characters, and laughing out loud over funny lines. She is a semi-recovering Netflix addict and a middle child of three.