I love learning about the latest book deals, and APCB Adds is a feature where I share my latest
Goodreads
book additions. These posts will introduce you to books coming out in the future, ones you can look forward to!
A YA fantasy set in a magical variation of 19th-century Italy.

Teodora DiSangro, daughter of a mafia-like family, must master her hidden powers to transform into a boy and plunge into the dangerous politics of her newly unified country, while her shape-shifting multi-gendered magic tutor pulls her heart —and her fate —in another direction.
I have such a huge crush on Italian history. So many inventions and so much arts and culture derived from Italian history. I can't wait to read this fantasy book set in that time period and setting!
Inspired by Asian mythology, it follows Lei, a girl who is taken from her remote village to serve in the Demon King's court. When Lei falls in love with another servant, putting both their lives in jeopardy, she must decide how far she's willing to go to fight for her love and her freedom.
Oooh I love Asian mythology, and I can't wait to see what happens in this book. Also a Demon King? Hellooo mercurial and fascinating villain.
Genuine Fraud by E. Lockhart - Delacorte Press - September 5, 2017
The story of a young woman whose diabolical smarts are her ticket into a charmed life. But how many times can someone reinvent themselves? You be the judge.

Imogen is a runaway heiress, an orphan, a cook, and a cheat.
Jule is a fighter, a social chameleon, and an athlete.
An intense friendship. A disappearance. A murder, or maybe two.
A bad romance, or maybe three.
Blunt objects, disguises, blood, and chocolate. The American dream, superheroes, spies, and villains.
A girl who refuses to give people what they want from her.
A girl who refuses to be the person she once was.
It's been years since I've read "We Were Liars" (wow, really aging myself here...) and I am STILL reeling from that plot twist. I can't wait to see if E. Lockhart knocks my proverbial socks off yet again.
The Sky in the Deep by Adrienne Young - Wednesday Books - 2018
Set in a Viking Age-inspired world, the YA fantasy explores a young warrior's journey after her brother commits an act of betrayal.
VIKING AGE, HELLO. Side note: I'm so excited for the Wednesday Books imprint of SMP launching this fall! They've acquired some fascinating and exciting books for the future (peep Roshani Chokshi's next series THE GILDED WOVES comes out from them!!)
Seafire by Natalie C. Parker - Razorbill/Penguin - 2018
Seafire, a speculative trilogy by Natalie C. Parker, which follows the captain of an all-female ship intent on taking down a corrupt warlord's powerful fleet.
I love books that take place at sea, and this book will definitely fill that insatiable thirst in my life. Also an all-female ship? Can't wait to meet this strong, independent women!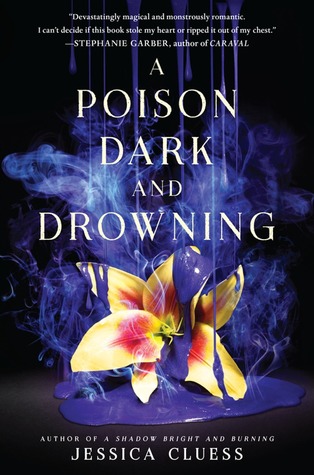 Henrietta doesn't need a prophecy to know that she's in danger. She came to London to be named the chosen one, the first female sorcerer in centuries, the one who would defeat the Ancients. Instead, she discovered a city ruled by secrets. And the biggest secret of all: Henrietta is not the chosen one.

Still, she must play the role in order to keep herself and Rook, her best friend and childhood love, safe. But can she truly save him? The poison in Rook's system is transforming him into something monstrous as he begins to master dark powers of his own. So when Henrietta finds a clue to the Ancients past that could turn the tide of the war, she persuades Blackwood, the mysterious Earl of Sorrow-Fell, to travel up the coast to seek out strange new weapons. And Magnus, the brave, reckless flirt who wants to win back her favor, is assigned to their mission. Together, they will face monsters, meet powerful new allies, and uncover the most devastating weapon of all: the truth.
Jess Cluess's debut fantasy novel A Shadow Bright and Burning was one of my favorite books of 2016. I can't wait to see what happens next in this sequel. Total Pride and Prejudice vibes too!!


Zélie Adebola remembers when the soil of Orïsha hummed with magic. Burners ignited flames, Tiders beckoned waves, and Zelie's Reaper mother summoned forth souls.




But everything changed the night magic disappeared. Under the orders of a ruthless king, maji were targeted and killed, leaving Zélie without a mother and her people without hope.




Now, Zélie has one chance to bring back magic and strike against the monarchy. With the help of a rogue princess, Zélie must outwit and outrun the crown prince, who is hell-bent on eradicating magic for good.




Danger lurks in Orïsha, where snow leoponaires prowl and vengeful spirits wait in the waters. Yet the greatest danger may be Zélie herself as she struggles to control her powers—and her growing feelings for the enemy.
Although not many people have read this book yet, there is SO much hype surrounding it. I'm pretty sure the book deal and the movie deal were both seven figures. So you know this book must be crazy amazing. It's also a Black Lives Matter book set in a fantasy world. Fascinating!
Which book are you most looking forward to from the list?
What books have you recently added to your TBR?
Rachel is a teenaged unapologetic fangirl and perfectionist.
She loves reading for the escape it gives from reality and enjoys crying over books, swooning over characters, and laughing out loud over funny lines. She is a semi-recovering Netflix addict and a middle child of three.