Richelle Mead's Vampire Academy was one of the first YA books I ever read and loved. I've been a huge fan of Richelle ever since, and I'm avidly following her newest trilogy, The Glittering Court. I am thrilled to join the blog tour for Midnight Jewel, the second book in the series.
Author: Richelle Mead
Genre: YA Fantasy
Page Length: 416 pages
Publication Date: June 27th, 2017
Publisher: Razorbill/Penguin
Source: Publisher
Goodreads
|
Amazon
A refugee of war, Mira was cast out of her home country and thrust into another, where the conditions were inhospitable at best. In a life-altering twist of fate, she is given the chance to escape once more, and she takes it, joining the Glittering Court.

Both a school and a business venture, the Glittering Court is designed to transform impoverished girls into upper-class ladies who appear destined for powerful and wealthy marriages in the New World. There, Mira finds herself subjected to persecution, not only from her fellow Glittering Court jewels, but from her suitors, as well—men she would potentially be expected to give her life to.

By day, she goes through the motions, learning the etiquette and customs that will help to earn her anonymity, even making a couple true friends in the process, the forthright ladies' maid Adelaide and the ambitious laundress Tamsin. But by night, Mira hatches a different plan entirely—one that, if exposed, could get her hanged in the highest court of Adoria.
I didn't realize until recently that each
Glittering Court
book would be from a different girl's point of view, but from the start I was most interested in Mira's story. In this book, Mira struggles to find her brother in the new colonies and find a way to free him from this work contract. Yet as crimes mount in the colony's Cape Triumph, Mira can't help but try to assist the targeted, poor.
While there is some overlap in scenes between this book and
the Glittering Court,
I am relieved that the plot and direction of this book is decidedly different. I really liked to see some of the prominent scenes from the previous book rewritten from Mira's point of view.
Midnight Jewel
predominantly takes place in Adoria (the new colonies still in the developmental stages) though. I really liked that we got to see the workings and hierarchy system of the Adoria as well as the dark underbelly of the city.
This book has a vigilante and espionage twist that made this story really addictive once the plot took off. I loved all of the missions and the trickery and fighting. Throw in some social justice fighters and a charming crew, and readers are in for a fun time.
Mira was such an admirable character, and she really made this book enjoyable for me. Her unfailing loyalty to her friends and her brother are touching. She was such a strong lead. So many people and obstacles came in the way of her goals and her future, yet she still prevailed and never let the stress get to her. I also really like her inexhaustible sense of morality and right and wrong. She has a line that she never dares cross no matter the reward or desire. But her compassion does give her a bit of wild streak, recklessly throwing herself into danger for those she cares about and those who can't defend themselves.
Unfortunately I wasn't onboard with the romance for most of this book, mainly because I wasn't a huge fan of the love interest, Grant. He is a spy with a harsh background, but his unemotional countenance and behavior and scathing words were so infuriating. Mira deserved better! Near the end of the book though, I developed a begrudging respect for the guy...
Overall I really enjoyed the second book in
the Glittering Court
series, and I can't wait for Tamsin's book!
Moodboard:
Follow Rachel's board Midnight Jewel on Pinterest.
About the Author: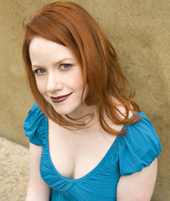 RICHELLE MEAD is the #1 New York Times, USA Today, and Wall Street Journal bestselling author of the Vampire Academy series and its spin-off series, Bloodlines. Originally from Michigan, she now lives in Seattle, Washington

.
Giveaway:
Enter for a chance to win one (1) of five (5) copies of Midnight Jewel by Richelle Mead (ARV: $19.99 each).
NO PURCHASE NECESSARY. Enter between

12:00 AM

Eastern Time on

June 26th, 2017

and

12:00 AM on July 17, 2017

. Open to residents of the fifty United States and the District of Columbia who are 13 and older. Winners will be selected at random on or about

July 21, 2017

. Odds of winning depend on number of eligible entries received. Void where prohibited or restricted by law.
a Rafflecopter giveaway
Schedule:
Have you read any of Richelle's books? Are you excited for this one?
Rachel is a teenaged unapologetic fangirl and perfectionist.
She loves reading for the escape it gives from reality and enjoys crying over books, swooning over characters, and laughing out loud over funny lines. She is a semi-recovering Netflix addict and a middle child of three.