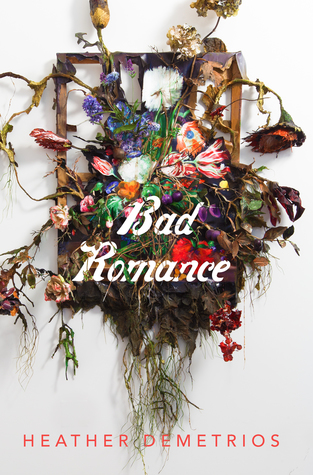 Author: Heather Demetrios
Genre: YA Contemporary
Page Length: 368 pages
Publication Date: June 13th, 2017
Publisher: Henry Holt/Macmillan
Source: Publisher
Goodreads
|
Amazon
Grace wants out. Out of her house, where her stepfather wields fear like a weapon and her mother makes her scrub imaginary dirt off the floors. Out of her California town, too small to contain her big city dreams. Out of her life, and into the role of Parisian artist, New York director—anything but scared and alone.

Enter Gavin: charming, talented, adored. Controlling. Dangerous. When Grace and Gavin fall in love, Grace is sure it's too good to be true. She has no idea their relationship will become a prison she's unable to escape.

Deeply affecting and unflinchingly honest, this is a story about spiraling into darkness—and emerging into the light again.
This book was so hard to rate. It feels reductive to give this book a rating because "Bad Romance" is about so much more than the stars it receives. It is not merely about a typical toxic relationship, it is about manipulative and abusive relationships and the heartbreaking effects it has on the main character.
I've been a huge fan of Heather Demetrios since I read her beautiful book "I'll Meet You There". I didn't love this book as much as that one, but this book isn't just meant to be enjoyed. It's meant to be heard and understood. This book is meant to teach us. Demetrios writes this book in such a perfect way to truly capture the full impact of this story and the raw emotions attached to every scene. This story is equal parts addictive, devastating, fun, somber, horrifying, and uplifting. There are so many tough scenes in this book. While this book did have its light moments, I would not say this is a light read.
Grace can't wait to move out of her house and get away from California suburbia Birch Grove. She finds her savior from her abusive household through drama student and rocker Gavin. They fall head over heels in love and everything is perfect. Until little by little Gavin reveals who he truly is and Grace starts to lose herself in the relationship.
Grace is a character I really sympathized for. With an unfair upbringing and nearly insurmountable pressure coming at her from all sides, she is desperate for a distraction, a savior. Anything to distract her from the troubles at home. She's compassionate and eloquent and a great leader. She's sweet and hardworking, and I felt for her throughout this book. I also loved the drama elements of this book! She is a huge fan of plays and poetry and literature and I love the scenes that has to do with music and theater.
She also has the best support system ever. I love her friendship with her friends Natalie and Alyssa, and I love that they stuck together throughout the highs and lows of this book. And onto Gavin... What an enigma. I obviously hate his character and his physical and emotional abuse towards Grace, but Demetrios did such a great job portraying him and showing readers how it is possible that Grace could fall for someone like him. It really opened my eyes to the nuances of toxic relationships and just how hard it can be to walk away from someone.
This book will hopefully open up conversations and help people in similar situations as Grace. Demetrios dealt with this subject in such a delicate yet firm manner. It's also doubly heartfelt as this book is loosely based off of Demetrios's own personal experiences. In the end I love the empowering message that Demetrios sends readers off with, and I am forever glad that I gave this book a chance. It has opened my eyes to a subject I never fully understood and has shown me what true strength and grace looks like.
Rachel is a teenaged unapologetic fangirl and perfectionist.
She loves reading for the escape it gives from reality and enjoys crying over books, swooning over characters, and laughing out loud over funny lines. She is a semi-recovering Netflix addict and a middle child of three.
You can find her on Twitter
@yaperfectionist
&
Goodreads
.