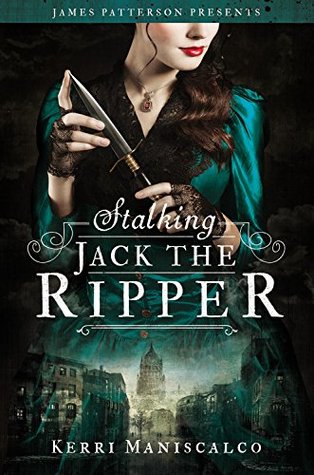 Author: Kerri Maniscalco
Genre: YA Mystery/Thriller
Page Length: 326 pages
Publication Date: September 20, 2016
Publisher: Jimmy Patterson
Source: Publisher
Goodreads
|
Amazon
Seventeen-year-old Audrey Rose Wadsworth was born a lord's daughter, with a life of wealth and privilege stretched out before her. But between the social teas and silk dress fittings, she leads a forbidden secret life.

Against her stern father's wishes and society's expectations, Audrey often slips away to her uncle's laboratory to study the gruesome practice of forensic medicine. When her work on a string of savagely killed corpses drags Audrey into the investigation of a serial murderer, her search for answers brings her close to her own sheltered world.
It's been a while since I've read such a suspenseful and delightful crime novel. Perfectly balancing among the gore, mystery, and strong characters, stalking Jack the Ripper is an exceptional novel.
My favorite element of this book is by far our brave protagonist Audrey Rose Wadsworth. She's such a forward thinker and a brave feminist even by today's standards. She's even more impressive as she lives in late 19th century London, a time more oppressive and sexist to women. There are so many quotes I highlighted from Audrey Rose that just scream girl power, which I love! She constantly rages against double standards and pursues her interest in science no matter what high society says.
Characterization was such a strong part of this novel, especially with a fresh interpretation on Watson and Holmes. Now we have Wadsworth and Cresswell! The chemistry and banter in this book are both entertaining and beguiling. If you're looking for two sleuthing detectives to charm you with their quirkiness and feistiness and quick wit then look no further.
I've never been very good at solving mystery novels, and I admit the identity of the Ripper took me by surprise. I loved that Maniscalco really played up the suspense and drama by making everyone in Audrey Rose's life a near suspect. And she did not hold back on the ogre and bloodiness of the novel. I also really liked the inclusion of accompanying photographs and illustrations. The pacing of the novel was great and the writing had a distinct flair to it.
Overall I really liked this mystery novel and can't wait to see Wadsworth and Cresswell in the next installment!
Rachel is a teenaged unapologetic fangirl and perfectionist.
She loves reading for the escape it gives from reality and enjoys crying over books, swooning over characters, and laughing out loud over funny lines. She is a semi-recovering Netflix addict and a middle child of three.
You can find her on Twitter
@yaperfectionist
&
Goodreads
.