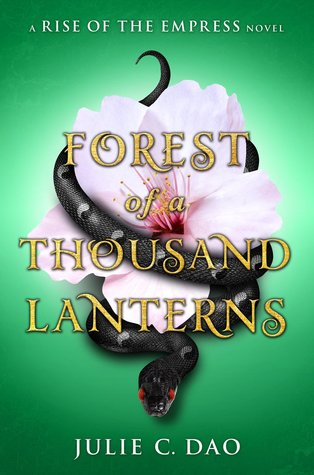 Author: Julie C. Dao
Genre: YA Fantasy
Series: Rise of the Empress #1
Page Length: 384 pages
Publication Date: October 10, 2017
Publisher: Philomel Books/Penguin
Source: Publisher
Goodreads
|
Amazon
Eighteen-year-old Xifeng is beautiful. The stars say she is destined for greatness, that she is meant to be Empress of Feng Lu. But only if she embraces the darkness within her. Growing up as a peasant in a forgotten village on the edge of the map, Xifeng longs to fulfill the destiny promised to her by her cruel aunt, the witch Guma, who has read the cards and seen glimmers of Xifeng's majestic future. But is the price of the throne too high?

Because in order to achieve greatness, she must spurn the young man who loves her and exploit the callous magic that runs through her veins--sorcery fueled by eating the hearts of the recently killed. For the god who has sent her on this journey will not be satisfied until his power is absolute.
Forest of a Thousand Lanterns is a book that, by the time I picked it up, had gained hype as glowing reviews streamed in a seemingly endless flow. I had extremely high expectations and still this book managed to capture my attention from the very first pages. I've always been strangely fascinated by the backstories of famous evil villains, and Snow White's evil queen stepmother definitely topped the list.

Xifeng is destined for greatness according to her magic-wielding aunt, who has seen Xifeng's future glory. Xifeng's lover Wei threatens to hold her back from her destiny though. As she wrestles with this entanglement she uncovers something wicked and sinister within herself that pushes her towards a darker and darker self. Will she succumb to her dark fate or fight to remain true to herself?

First of all, this book was exceptional. I understand why this book has been getting so much (well-deserved) attention. It's distinctly different from so much of the mainstream YA fantasy being published today. Set in a wholly different fantasy setting and paired with a complicated character who isn't entirely all good (or bad), Forest of a Thousand Lanterns demands your attention.

I've never been so conflicted about a main character before. It was honestly frightening to see Xifeng's evolution into the eponymous evil queen. My heart just hurts for the innocent girl from the beginning of the book who is constantly underestimated and seen as nothing more than a pretty face that needs to be coddled. Dao found the perfect way to make us sympathize with the plights of the main character while also showing how each difficult decision she made during her journey altered her character. It was sickly fascinating to see Xifeng manipulate her way through the ranks of the court until she attained her "destiny".

The East-Asian setting really sets this book apart from others, and I loved having this diverse culture proudly represented in a YA novel. Can we please have more books set in Imperial Eastern Asia?! I also really liked the wide range of secondary characters in this book. While the cast is large, I felt they all had such strong personalities that contributed to richen this tale. Dao's writing is beautiful and so immersive.

The sheer darkness and brutality of this book really took me by surprise. This is not a book to put you in high spirits. This book will claw its way straight to your heart and you'll mourn so many actions, characters, and elements that occur in this book. This is no fairytale, but merely the struggles and sacrifices that a girl makes to acquire power amid manipulations.

Overall, while this book definitely lacked levity and cheer, the writing and story were simply stunning. I encourage you to check out this book!
Rachel is a teenaged unapologetic fangirl and perfectionist.
She loves reading for the escape it gives from reality and enjoys crying over books, swooning over characters, and laughing out loud over funny lines. She is a semi-recovering Netflix addict and a middle child of three.
You can find her on Twitter
@yaperfectionist
&
Goodreads
.