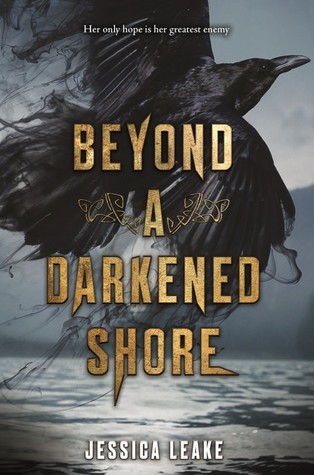 Author: Jessica Leake
Genre: YA Historical Fantasy
Page Length: 384 pages
Publication Date: April 10th, 2018
Publisher: HarperTeen
Source: Publisher
Goodreads
|
Amazon
The ancient land of Éirinn is mired in war. Ciara, Princess of Mide, has never known a time when Éirinn's kingdoms were not battling for power, or Northmen were not plundering their shores.

The people of Mide have thankfully always been safe because of Ciara's unearthly ability to control her enemies' minds and actions. But lately, a mysterious crow has been appearing to Ciara, whispering warnings of an even darker threat. Although her clansmen dismiss her visions as pagan nonsense, Ciara fears this coming evil will destroy not just Éirinn, but the entire world.

Then the crow leads Ciara to Leif, a young Northman leader. Leif should be Ciara's enemy, but when Ciara discovers that he, too, shares her prophetic visions, she knows he's something more. Leif is mounting an impressive army, and with Ciara's strength in battle the two might have a chance to save their world.

With evil rising around them, they'll do what it takes to defend the land they love…even if it means making the greatest sacrifice of all.
After reading so many glowing reviews for "Beyond a Darkened Shore" paired with the pitch of a Norse mythology, I eagerly started this book hoping to see a brutal clashing of two clans both struggling to survive. What I found instead was a heavy mythological plot that, while unexpected, managed to capture my attention early on.
"Beyond a Darkened Shore" follows the eldest daughter and heir to the Mide throne. Because of her unnatural mild control abilities, she is shunned by her people. Over time she receives cryptic messages and ominous feelings to prepare for a dangerous quest to protect her family and her people. Which leads her to pair with Leif, her sworn enemy from the North, to save their people.
My first impression upon finishing this book is thank gosh it is over. I really enjoyed the arc overall, but
I felt the story dragged in places and was simply too long
. I can think of quite a few insignificant scenes to be cut to tighten up this story to alleviate the pacing issues. Disclaimer: I read an Advanced Readers Copy, so there are many edits that were probably made to the final version.
I really loved the Norse mythology elements incorporated into the story, and I was pleasantly surprised to see the big role mythology had on this novel. Given the historical element of this story, there was
plenty of gore and brutality to satisfy anyone's expectations of a Vikings novel
. The action was exhilarating and with such a bloody tale, there were so many twists I didn't see coming. I thought the writing overall was polished and read very easily.
I thought the main character, Ciara, was a little underdeveloped. I loved her ruthless nature and loyalty to her family, but I felt like
she was more of a vessel for the story than the one actually leading it
. Leif was the much needed flirty, fun release to the dark tale. I thought they paired pretty well together and I liked their romantic arc.
Overall I really liked how the story ended, and I would definitely read a book two if there is one!
Rachel is a teenaged unapologetic fangirl and perfectionist.
She loves reading for the escape it gives from reality and enjoys crying over books, swooning over characters, and laughing out loud over funny lines. She is a semi-recovering Netflix addict and a middle child of three.
You can find her on Twitter
@yaperfectionist
&
Goodreads
.