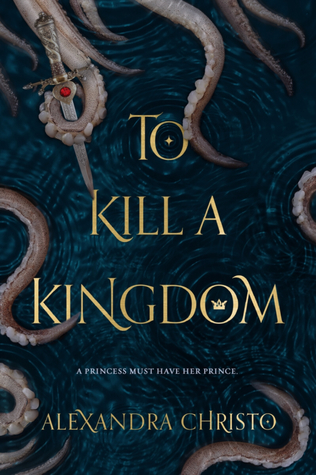 Author: Alexandra Christo
Genre: YA Fantasy
Page Length: 342 pages
Publication Date: March 6th, 2018
Publisher: Feiwel and Friends/Macmillan
Source: Publisher
Goodreads
|
Amazon
Princess Lira is siren royalty and the most lethal of them all. With the hearts of seventeen princes in her collection, she is revered across the sea. Until a twist of fate forces her to kill one of her own. To punish her daughter, the Sea Queen transforms Lira into the one thing they loathe most—a human. Robbed of her song, Lira has until the winter solstice to deliver Prince Elian's heart to the Sea Queen or remain a human forever.

The ocean is the only place Prince Elian calls home, even though he is heir to the most powerful kingdom in the world. Hunting sirens is more than an unsavory hobby—it's his calling. When he rescues a drowning woman in the ocean, she's more than what she appears. She promises to help him find the key to destroying all of sirenkind for good—But can he trust her? And just how many deals will Elian have to barter to eliminate mankind's greatest enemy?
To Kill a Kingdom,
one of my favorite books of 2018! Today I am sharing a review.
To Kill a Kingdom
is a book that I immediately was excited about as it is a loose retelling of the Little Mermaid, and it is written by a former YA blogger!
Rife with witty banter, vicious sirens, rich world building, dead pirates, and the ultimate forbidden romance
,
To Kill a Kingdom
follows the siren princess, Lira, who is turned into a human as punishment by her mother and tasked with taking the heart of Prince Elias, the notorious siren-killing pirate. Along the way, she realizes that revenge may be best, but conflicts of the heart and mind challenge her.
If you're a fan of
Daughter of the Pirate King
, I highly recommend this book. While a decidedly darker tale than both DotPK and
the Little Mermaid
, the strong characters and hilarious banter more than even things out. I loved all the gory and vicious bits of this tale interlaced with lighthearted funny scenes.
The protagonist, Lira, has always struggled to be the vicious killer her Siren Queen mother has tried to shape her to be. When she becomes a human, it's funny to see her struggle to adapt to her new body while she lacks many of her siren talents. I spent the entire book curious to see how long she could keep up the charade without anyone figuring out she's really a siren.
Lira is witty and sharp, and her sarcastic delivery really establishes a great rapport between her and Prince Elias
, the more flirty and lighthearted of the two.
Oh and lets talk about Prince Elias. Sworn to protect humans from the deadly sirens, he has made it his mission to rid the world of the sea evil to build a more harmonious and peaceful future for all. He is optimistic and eager, yet too trusting. He's a fascinating blend of ruthless and deadly yet kind and fair when need be.
Elias's crew is such a fun group as well, and I loved the dynamic.
There's stoic Torik, lethal Madrid, and sarcastic Kye among a whole slew of other vivid secondary characters.
The world building fascinated me as well. Christo took the opportunity to craft a vast historical background of the fight between sirens and humans, full with magical objects and vengeful goddess. She took
a fresh perspective on sirens and created an entire culture
around them. I thought the pacing of the book definitely lagged in parts, but overall I was thoroughly engaged throughout. The writing was lovely, there were so many beautiful statements that I wanted to highlight and reread again and again. I also really liked all of the twists that this book took; I honestly had no idea what was going to happen.
And. That. Romance. Though..... Oh I loved it. Wholeheartedly in love with this couple. I loved their slow-burn, forbidden romance. They had such chemistry, and I loved their bickering and banter that carried throughout the entire book. It's such a crazy dynamic, two people hunting one another and then they fall in love. Honestly, the romance is what kept me so invested in this story; I kept reading because I just had to know what would happen!
I absolutely loved this book and will definitely be buying my finished copy
Rachel is a teenaged unapologetic fangirl and perfectionist.
She loves reading for the escape it gives from reality and enjoys crying over books, swooning over characters, and laughing out loud over funny lines. She is a semi-recovering Netflix addict and a middle child of three.
You can find her on Twitter
@yaperfectionist
&
Goodreads
.