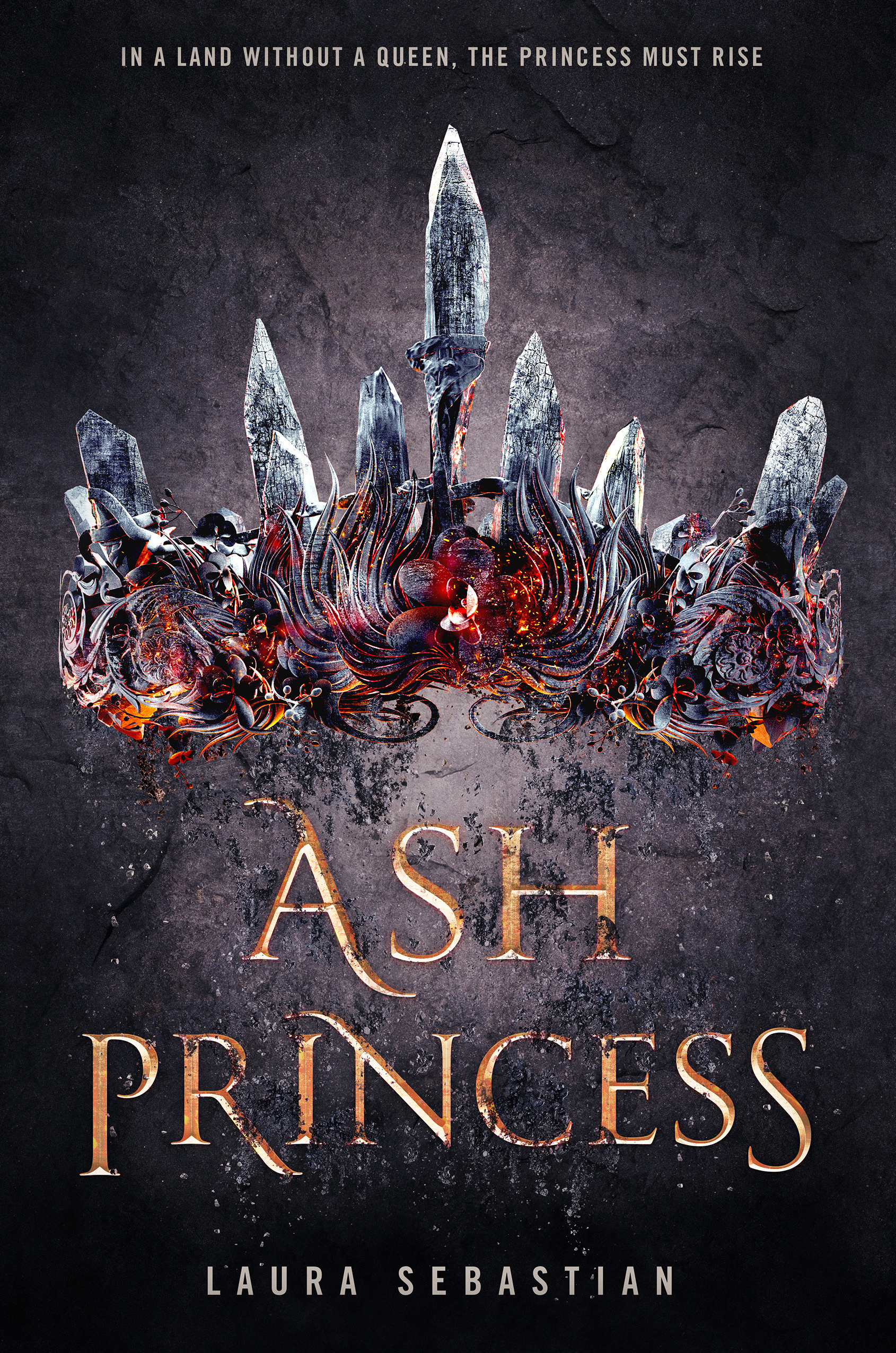 Author: Laura Sebastian
Genre: YA Fantasy
Page Length: 432 pages
Publication Date: April 24th, 2018
Publisher: Delacorte/Random House
Source: Publisher
Goodreads
|
Amazon
Theodosia was six when her country was invaded and her mother, the Fire Queen, was murdered before her eyes. On that day, the Kaiser took Theodosia's family, her land, and her name. Theo was crowned Ash Princess--a title of shame to bear in her new life as a prisoner.

For ten years Theo has been a captive in her own palace. She's endured the relentless abuse and ridicule of the Kaiser and his court. She is powerless, surviving in her new world only by burying the girl she was deep inside.

Then, one night, the Kaiser forces her to do the unthinkable. With blood on her hands and all hope of reclaiming her throne lost, she realizes that surviving is no longer enough. But she does have a weapon: her mind is sharper than any sword. And power isn't always won on the battlefield.

For ten years, the Ash Princess has seen her land pillaged and her people enslaved. That all ends here.
I am simply blown away by this book. There are no words to describe how utterly nerve-racking this book is nor how much I loved it.
I want to preface this review by saying that "Ash Princess" will definitely not be a book for everyone. Set in a harsh world, the downtrodden Astrean people have been enslaved by the Kalovaxian intruders who have usurped the crown and the highjacked the country for trade and resources. The Kalovaxians slaughtered the queen of Astrea and all of her loyal guardians but kept the beloved Princess Theodosia hostage, to publicly punish in retaliation each time the Astrean rebels fight back. This book definitely has some brutal scenes, and there are some triggers for abuse so take care. But overall this book is dark and deals with some heavy material, so once again this is not a light fantasy read.
The inner turmoil that Theo feels throughout "Ash Princess" is one of the greatest qualities of this novel. For the past ten years, Theo has been held captive. She has learned to play the part of a docile, repenting princess all while suffering through abuse and humiliation orchestrated by the cruel Kaiser who stole her thrown. Her only comfort has been her friendship with Cress, a young Kalovaxian whose father is the best Kalovaxian warrior. In the beginning, I was confused as to why Theo never stood up to her aggressors throughout the years of her captivity and her countrymen's slaughter. But, she was six when the takeover happened and essentially grew up under the Kaiser's threat of cruelty. Upon reflection, I understand why it could take her so long to decide to fight back, but I still don't completely buy the idea that it took her ten years to want to make a difference. But then again, she's sixteen and who knows what I'd even do at that age.
As Theo plots to take down the Kalovaxians from within, she makes the crown prince, Soren, fall in love with her to gain his trust so she can kill him and topple the Kalovaxian rule. But as she starts to fall for Soren, she starts to doubt everything.
Stuck between feeling that not all Kalovaxians are evil and the Astrean people need her help, Theo is riddled with guilt and unease throughout the novel as she lies to everyone about her true feelings. The inner dialogue was fascinating.
At times, Theo felt so unstable but other times her perceptive mind and strategic plotting lent an air of confidence and intensity to her character. I honestly felt so bad for Theo in this book because hardly anything inherently good happens to her. There are mini victories and joyful bursts of happiness, but it is always shrouded by the danger hanging over her head. I was a little peeved that she started to question the rebels' plans as her feelings for Soren grew, but it felt like such a flawed human weakness which I can't fault her for.
Speaking of drama,
the romance in this book seems doomed from all sides
. The romantic development in this novel was the only relatively light moment of the book, but even then it was sad knowing they had real feelings together and couldn't actually be together in any real setting. I'm anxious to see what happens next between these two, but there is definitely a lot of things they need to clear up with one another. While a love triangle looks like it could be forming, I'm hoping the author doesn't take it in that direction, and I believe Theo doesn't reciprocate the feelings.
I quite liked the variety secondary characters that complemented the plot. There are some fiery personalities, some sweeter characters, as well as the vicious ones with a vendetta out against Theo by the end of the story. It'll be interesting to see how these relationships shift and change in the coming novels, especially as new revelations come to light.
"Ash Princess" is made up of all the classic components that make up a solid fantasy novel (vengeful heir, falling for the enemy, rebellion, magic), but
this book has a decidedly darker, heavier tone
. I did like the magical element with the gems coupled with a specific faith as well as the many other uses of the gem that will undoubtedly place a larger part in subsequent books. The drama and high-stakes nature of this novel made it difficult for me to put down "Ash Princess". Laura Sebastian's writing built the suspense throughout and uncovered so many jaw-dropping twists. The plotting was impeccable, and although the pacing was slow, you could tell everything was building towards a blockbuster finish.
Overall, this book was a solid - albeit slightly depressing - fantasy novel. This book set the stage for some great developments in the next book, Lady Smoke, and I can't wait to read what happens next!
Rachel is a teenaged unapologetic fangirl and perfectionist.
She loves reading for the escape it gives from reality and enjoys crying over books, swooning over characters, and laughing out loud over funny lines. She is a semi-recovering Netflix addict and a middle child of three.
You can find her on Twitter
@yaperfectionist
&
Goodreads
.