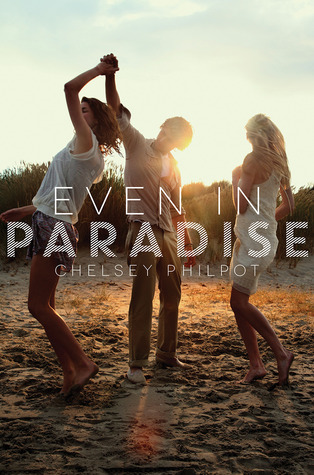 Author: Chelsey Philpot
Series: None
Genre: YA Contemporary
Page Length: 368 Pages
Publication Date: October 14th, 2014
Publisher: HarperC
ollins
Source: e-ARC via Edelweiss
Goodreads
When Julia Buchanan enrolls at St. Anne's at the beginning of junior year, Charlotte Ryder already knows all about the former senator's daughter. Most people do... or think they do.

Charlotte certainly never expects she'll be Julia's friend. But almost immediately, she is drawn into the larger than-life-new girl's world—a world of midnight rendezvous, dazzling parties, palatial vacation homes, and fizzy champagne cocktails. And then Charlotte meets, and begins falling for, Julia's handsome older brother, Sebastian.

But behind her self-assured smiles and toasts to the future, Charlotte soon realizes that Julia is still suffering from a tragedy. A tragedy that the Buchanan family has kept hidden … until now.
I'll admit, I'm not much of a contemporary fan. I found this book on Edelweiss, and it sounded intriguing so I read it, and boy am I glad I did! This book was fantastic and opened my eyes to the potential that all books have if I'd simply give them a chance. Even in Paradise was stunning.
"Even knowing, as I do now, that grace, power, and, yes, love can hide the darkest elements of the human heart, I would do it all again."
I didn't have high expectations coming into this book. I thought it would just be about snobby rich people and their socialite life styles and problems. I didn't realize that this book is about so much more, it's about friendship and growing up and making mistakes and living with the repercussions, it's about young love and family. The themes of this book are so meaningful, and the story is truly fantastic. It's simple and well executed.
Philpot's writing was dynamite. I loved how she weaved the story. It wasn't about some pretentious rich family that was perfect. It was about a flawed, charming, caring family that was dealing with loss. It was about an outsider coming in and being embraced by the family. The pacing was a bit slow at first but eventually glided through at a great speed. The unexpected twists and turns in the plots made this book even more enjoyable (and emotional).
The romance was sweet but not overdone. It was much more about the family and the bonds formed which I liked.
The story is of a time that's past, a chapter of the main character's life that's ended. It's filled with happiness and anguish but not regret. This story brings out all the emotions.
The characters are so complex and realistic. They (The Buchanans) were all so descriptive and wonderful. Philpot weaved an amazing story that really delved deep into the Buchanans' characters. It was easy to love all of them, and I can see why the protagonist does. The main character is okay, she's quite neutral in my opinion. She didn't help or hurt the story. She was just so bland and dull next to the other characters.
The ending made me cry, not gonna lie.
I was so impressed with the use of chiasmus (coming full circle). It made the ending much more bittersweet and wonderful and heartache-y. We knew from the beginning that it would end like this, it still hurt though.
This book was an amazing read that I couldn't help but fall in love with. Truly spectacular.