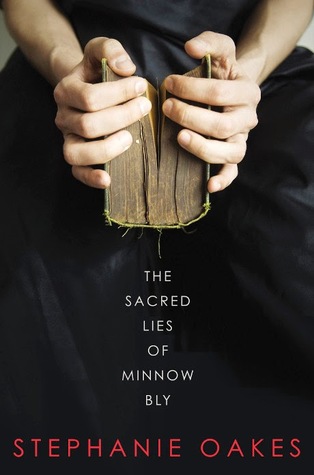 The Sacred Lies of Minnow Bly
by
Stephanie Oakes

Publisher: Dial/Penguin
Release Date:

June 9th 2015
Genre: Young Adult Thriller
June 2nd 2015
Synopsis:
With a harrowing poetic voice, this contemporary page-turner is perfect for fans of Laurie Halse Anderson's Speak, Julie Berry's All The Truth That's in Me, and the works of Ellen Hopkins.
The Kevinian cult has taken everything from seventeen-year-old Minnow: twelve years of her life, her family, her ability to trust.
And when she rebelled, they took away her hands, too.
Now their Prophet has been murdered and their camp set aflame, and it's clear that Minnow knows something—but she's not talking. As she languishes in juvenile detention, she struggles to un-learn everything she has been taught to believe, adjusting to a life behind bars and recounting the events that led up to her incarceration. But when an FBI detective approaches her about making a deal, Minnow sees she can have the freedom she always dreamed of—if she's willing to part with the terrible secrets of her past.
The Sacred Lies of Minnow By is a hard-hitting and hopeful story about the dangers of blind faith—and the power of having faith in oneself.
Buy Links:
Goodreads
|
Amazon
|
Barnes & Noble
|
Book Depository
|
iTunes
|
Kobo
I've never read a book about cults, and I can honestly say this book is the most exquisite blend of twisted and fantastic.
This book takes a hard look at cult life and how it runs. It's crazy and insane in horrifying in parts. The writing is haunting and terrific. Stephanie keeps us in the dark for most of the book to make the ending absolutely mind blowing. The beautiful imagery she projects really counterbalances the horrific nature of the story.
This isn't your average scary thriller novel of cults. This book has so much more to offer than mere chills and thrills. Minnow Bly starts to think about such important topics like freedom of speech and religion and its affect on our lives. This book isn't all dark though. There are humous and light moments as Minnow Bly connects with the other people in the juvenile detention.
The main character, Minnow, Bly has a huge disadvantage. She has no hands. If that does't give you the first glimpse into how psychotic this book is, then nothing will.
This book brings out all the emotions. As you hear and learn of everything that happens in the "community" you can't help but sympathize for these people. This book also takes a look at our justice system with is black and white. There's no mix, there's no leeway. It's interesting.
Overall this was a thought-provoking read that I highly enjoyed and would recommend you check out.
Favorite Quotes
"Growing up, I believed in miracles. I guess I don't anymore."
"When I remember her, I picture that expression, like behind her eyes she had entire rooms that she didn't let anyone see. And I realize now it was the book in her hands that'd made them."
Stephanie Oakes is a teacher and YA author from Washington State. Her debut novel, THE SACRED LIES OF MINNOW BLY (Dial/Penguin,

June 9, 2015

), about a girl who escapes from a religious commune only to find herself at the center of a murder investigation, is based on the Grimm fairy tale, "The Handless Maiden."
THE ARSONIST, her second YA mystery through Dial/Penguin, is scheduled for publication in fall 2016.
a Rafflecopter giveaway