Meet The Newbies is a blog event co-hosted by
Dana @DanaSquare
and I, in which we introduce you to all of the new kids in school, the 2015 debut authors!
Meet Emily Adrian:
Emily Adrian was born in 1989 in the suburbs of Portland, Oregon. After graduating from Portland State University, she moved to Toronto, Ontario, where she worked as a receptionist while secretly writing books.
Emily currently lives in Toronto with her husband and their dog named Hank. Like It Never Happened is her debut novel.
Meet Her Debut Novel: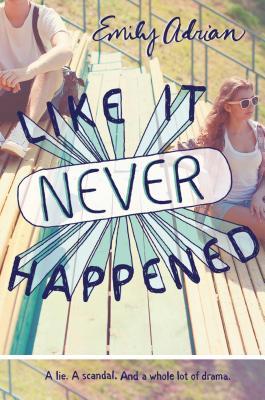 Stereotypes, sexuality, and destructive rumors collide in this smart YA novel for fans of Sara Zarr's Story of a Girl, Siobhan Vivian's The List, and E. Lockhart's The Disreputable History of Frankie Landau-Banks.
When Rebecca Rivers lands the lead in her school's production of
The Crucible
, she gets to change roles in real life, too. She casts off her old reputation, grows close with her four rowdy cast-mates, and kisses the extremely handsome Charlie Lamb onstage. Even Mr. McFadden, the play's critical director, can find no fault with Rebecca.
Though "The Essential Five" vow never to date each other, Rebecca can't help her feelings for Charlie, leaving her both conflicted and lovestruck. But the on and off-stage drama of the cast is eclipsed by a life-altering accusation that threatens to destroy everything…even if some of it is just make believe.
I'm so excited to read Emily's book! Today she shares ten random facts :)
Guest Post:
10 Random Facts about Emily Adrian
The only toy I still have from childhood is a stuffed dog named Little Ears, whose ears are a perfectly average size.

I write my first drafts by hand.

The first R-rated movie I ever saw was Working Girl, which I watched with my grandmother.

I met my husband at creative writing camp.

I have a tattoo of an airplane on my right shoulder blade,

even though flying terrifies me.

My first job was "Sandwich Artist" at Subway. I hated it.

I like any food to which one can reasonably add hot sauce.

In high school, I dubbed my best friend's pickup truck "Gladys." The name stuck.

I really like water slides.
Emily is kindly offering a finished copy of her book, US/CA only!
a Rafflecopter giveaway
a Rafflecopter giveaway
Remember to mark down on your calendar that Saturday, June 20th @ 4pm EST the second Meet The Newbies twitter chat is taking place using the hashtag #MTN2015
Other #MeetTheNewbs Posts & Giveaways: