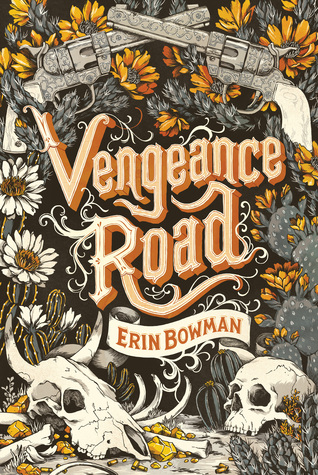 Author: Erin Bowman
Genre: YA Historical Fiction
Page Length: 336 Pages
Publication Date: September 1st, 2015
Publisher: HMH Books for Young Readers
Source: eARC via Edelweiss
Goodreads
|
Amazon
|
Barnes and Noble
|
iBooks
When Kate Thompson's father is killed by the notorious Rose Riders for a mysterious journal that reveals the secret location of a gold mine, the eighteen-year-old disguises herself as a boy and takes to the gritty plains looking for answers and justice. What she finds are devious strangers, dust storms, and a pair of brothers who refuse to quit riding in her shadow. But as Kate gets closer to the secrets about her family, she gets closer to the truth about herself and must decide if there's room for love in a heart so full of hate.
In the spirit of True Grit, the cutthroat days of the Wild West come to life for a new generation.
The beautiful cover of
Vengeance Road
perfectly matches the beauty of the inside as well. I was wildly impressed by this book, and I can't think of a single thing I didn't like about it.
I was impressed by the how authentic both the dialogue and writing were to the time period and setting. Kate's voice permeates and twines itself with the writing; I felt I was really in the head of a Wild West gal! Erin's fantastic writing wonderfully depicts the feel and mood of the Wild West in the late 1800s. Her research was on point, and she added so many different elements of the time period to entertain readers.
I love how Kate has no reserves and is really confident in herself. There's no second guessing; she's quick and decisive. I love that in a protagonist! She's also not one to let people walk all over her. She'll stand up for herself and won't tolerate not being treated anything less than she deserves.
The characters in this book are fleshed out and have such deep backstories. The depth of these characters and the level to which we understand them far surpasses what most books deign to give us. Kate struggles to let go of her quest for vengeance. Jesse is riddled with guilt for a tragic accident that happened many years ago. I loved seeing the growth these characters had and watching them strive to be their best and happiest selves. Will's the sarcastic and carefree one in the novel, and he lends some wit and charm to the novel.
The plot was action-packed and kept my eyes glued to the pages. The plot twists of this book are jaw-dropping and not predictable at all. This book is a bit graphic and gory, but I think it really contributes to the authenticity and grit of this story. This book is not for the fainthearted.
The romance is adorable and swoony and doesn't overshadow the plot at all. There's no instalove, and the chemistry between the two is amazing. I love the dynamic between the two as well. It brought a bit of lightness to the relatively dark book.
Overall I thoroughly enjoyed this novel, and I highly recommend it to readers who are in the mood for some Wild West!
About the Author
Erin grew up in rural Connecticut, where she spent most of her childhood telling stories. It is rumored that her first words were not "Mama" or "Dada," but "Once upon a time." In middle school, when kids were going off to sleep-away camp for the summer, Erin was attending writing camp and penning short stories.
She studied web design (and minored in Creative Writing because she couldn't stay away from stories) at the Rochester Institute of Technology in upstate New York. After several years working in advertising and designing websites for various brands, she moved from Boston to New Hampshire, where she now lives with her family and writes full-time.
When not writing, Erin can often be found hiking, geeking out over good typography, and obsessing over all things Harry Potter. She drinks a lot of coffee, buys far too many books, and is not terribly skilled at writing about herself in the third person.
She is represented by Sara Crowe of Harvey Klinger, and is the author of the Taken Trilogy (available from HarperTeen) and Vengeance Road (HMH Books for Young Readers).
Rachel is a teenaged unapologetic fangirl and perfectionist.
She loves reading for the escape it gives from reality and enjoys crying over books, swooning over characters, and laughing out loud over funny lines. She is a semi-recovering Netflix addict and a middle child of three.
You can find her on Twitter
@yaperfectionist
&
Goodreads
.