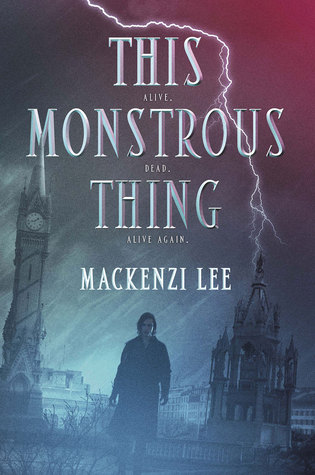 Author: Mackenzi Lee
Genre: YA Historical Fiction
Page Length: 384 Pages
Publication Date: September 22nd, 2015
Publisher: Katherine Tegen Books
Goodreads
|
Amazon
|
Barnes & Noble
|
Book Depository
|
Kobo
In 1818 Geneva, men built with clockwork parts live hidden away from society, cared for only by illegal mechanics called Shadow Boys. Two years ago, Shadow Boy Alasdair Finch's life shattered to bits.

His brother, Oliver—dead.

His sweetheart, Mary—gone.

His chance to break free of Geneva—lost.

Heart-broken and desperate, Alasdair does the unthinkable: He brings Oliver back from the dead.

But putting back together a broken life is more difficult than mending bones and adding clockwork pieces. Oliver returns more monster than man, and Alasdair's horror further damages the already troubled relationship.

Then comes the publication of Frankenstein and the city intensifies its search for Shadow Boys, aiming to discover the real life doctor and his monster. Alasdair finds refuge with his idol, the brilliant Dr. Geisler, who may offer him a way to escape the dangerous present and his guilt-ridden past, but at a horrible price only Oliver can pay…
Interview
1. Why do you love Frankenstein so much? :)
How could anyone not love
Frankenstein
, that's what I'd like to know! I found
Frankenstein
on my own—I didn't read it in school or as assigned reading, and my first exposure to it came from a stage play—so that gave me a lot of space to love it for my own reasons and interpret it on my own, rather than have a teacher's opinion superimposed over mine. I love Frankenstein because it is the story of two men who are both monstrous, and how human beings have a profound capacity for both good and evil, and how those things can exist simultaneously in each of us. I love it as a book about what makes us human. I think it's still being read two hundred years after it was published because of how those themes have never stopped being compelling and relevant.
2. What type of research did you do for this book? What's the most fascinating thing you learned?
I did a
ton
of research for this book—about daily life in the nineteenth century, about the Romantics, about science at the time, about steampunk conventions, about clocks and mechanics and Switzerland and
Frankenstein
. The best kind of research I did was the travel—I got to visit both Bavaria and Geneva while writing the book, which was basically a dream come true. But the most fascinating stuff I learned was about Mary Shelley and how she came to write
Frankenstein
when she was just nineteen years old, which was not a whole lot younger than I was when I read it for the first time. If you don't know anything about Mary Shelley and her fascinating life, there are a lot of great books out there—two of my favorites are
Romantic Outlaws
by Charlotte Gordon and
The Lady and her Monsters
by Roseanne Montillo.
3. Which of your characters can you relate to the most? Why?
The character I'm most like is Oliver,
This Monstrous Thing's
resident monster. Oliver and I are both the volatile older sibling to a stoic young scientist—my kid sister and I have a similar dynamic that Alasdair and Oliver do in the book, namely where I get really worked up over stuff that she takes straight-faced. Oliver and I are both outgoing, artistic, reactionary, and led by our heart more than our head. We just have a lot of feelings, okay!?
4. Your book has awesome steampunk elements! What other steampunk novels would you recommend to readers?
The book that made me fall in love with steampunk was the
Leviathan
series by Scott Westerfeld—alternate history World War 1 and airships and world travel, yes please! Can't recommend those books highly enough. I also love
Something Strange and Deadly
by Susan Dennard, because steampunk zombie hunters, and
Airborn
by Kenneth Oppel, because airships. Also anything by Gail Carriger if you like your steampunk books heavy on charm.
5. How did you determine when to stay true to Frankenstein and when to branch off to your own creativity?
Since my retelling is as much an alternate history of why
Frankenstein
came to be written as it is a retelling of
Frankenstein,
I never felt like I was slave to the plot of Mary Shelley's original novel. My story developed very separate of it. I let the themes of her novel guide me rather than the actual plot points. I did, however, have endless fun weaving in little
Frankenstein
Easter eggs into
This Monstrous Thing
for people who are also die-hard fans. There are dozens of them sprinkled throughout
.
And also a
Young Frankenstein
reference, for the most eagle-eyed of readers.
Mackenzi Lee is reader, writer, bookseller, unapologetic fangirl, fast talker, and perpetually-anxious badass. She holds an MFA from Simmons College in writing for children and young adults, and her short fiction has appeared in Inaccurate Realities, The Friend, and The Newport Review. Her young adult historical fantasy novel, THIS MONSTROUS THING, which won the PEN-New England Susan P. Bloom Children's Book Discovery Award, as well as an Emerging Artist Grant from the St. Botolph Club Foundation, will be published fall of 2015 by Katherine Tegen/HarperCollins.

She loves Diet Coke, sweater weather, and historical fiction. On a perfect day, she can be found enjoying all three. She currently calls Boston home.
a Rafflecopter giveaway
Rachel is a teenaged unapologetic fangirl and perfectionist.
She loves reading for the escape it gives from reality and enjoys crying over books, swooning over characters, and laughing out loud over funny lines. She is a semi-recovering Netflix addict and a middle child of three.
You can find her on Twitter
@yaperfectionist
&
Goodreads
.