I attended the American Library Association Mid-Winter (ALAMW) conference in Boston from January 8th-11th. It was my first big book conference, and I can honestly say it will forever be a highlight of my bookish/blogging experience.
I already recapped
Day 1
, so here is a recap of Day 2!
By Day 2 I was clearly a pro at book conferences (haha kidding!), and I was equal parts excited and tired. Harper said they were dropping more summer ARCs on Sunday morning, so as soon as the doors opened everyone professionally sped-walked over to Harper's booth. I picked up
This Savage Song
,
Ivory and Bone
,
My Lady Jane
, and
Out of My Mind
!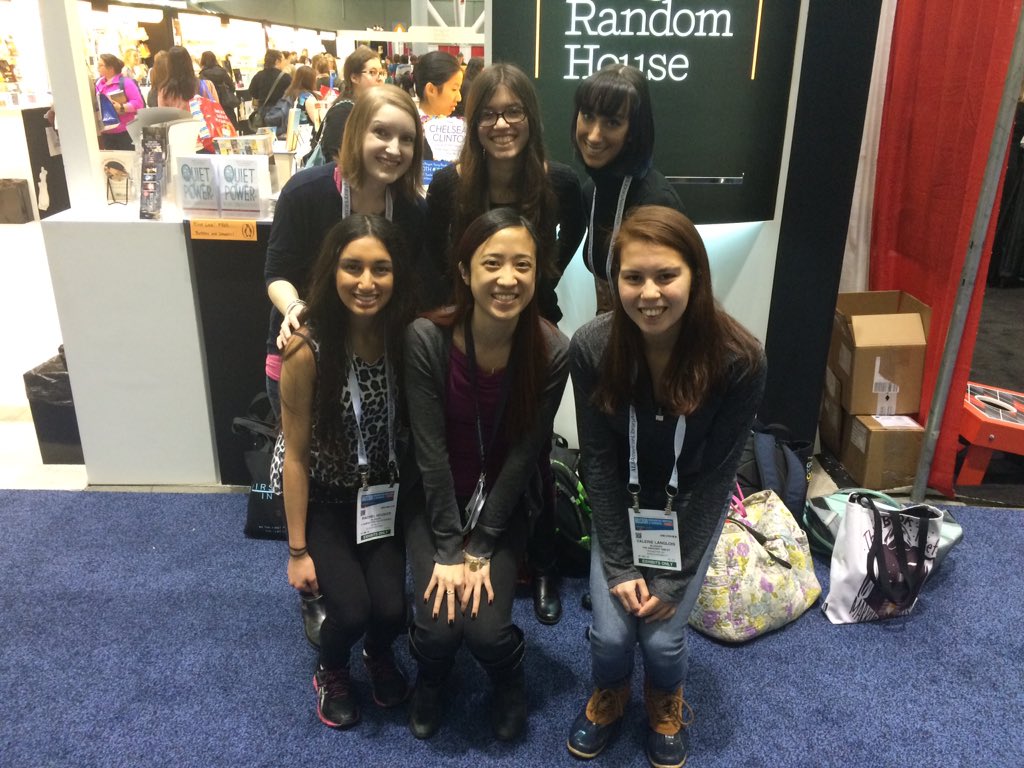 (L-R) Back: Molly, Nori, MC. Front: Me, Melissa, Val
I went to Penguin and stumbled upon
Furthermore
by Tahereh Mafi, a book I was surprised to see there! Afterwards I walked around a bit with Melissa and Molly to different booths to browse and pick up some more books we'd missed on Saturday. I went to Macmillan's booth and discovered Jean Feiwel (THE PUBLISHER OF FEIWEL AND FRIENDS AKA THE LUNAR CHRONICLES BOOKS+MORE) and the editor-in-chief Liz Szabla there. So I fumbled around for a few minutes before working up the courage to introduce myself and profusely (and embarrassingly) thank them for their hard work because they've published some phenomenal books. When Liz asked if I wanted a picture, how could I say no?!
Jean Feiwel, Me, Liz Szabla
Julie and Me
Eventually Melissa, Molly, and I met up with Brittany and Meredith, and we attended the spectacular We Need Diverse Books panel with panelists Marieke Nijkamp (
This Is Where It Ends
), Kody Keplinger (
Run
), Adam Silvera (
More Happy Than Not
), and Heidi Heilig (
The Girl From Everywhere
). There was a huge turnout at this event, and I thought the moderation and responses were wonderful. I also saw Julie Eshbaugh, author of the forthcoming
Ivory and Bone
again along with Laura Tims, author of the forthcoming
Please Don't Tell
.
Julie Cheung, Marieke, Kody, Adam, Heidi
Then I met Karen Fortunati (
The Weight of Zero
) and Darcy Woods (
Summer of Supernovas
) for a bit. They are both such incredibly kind and genuinely great individuals; it was so nice meeting them in person! I walked around a bit and then sat down with some blogger friends. I took a break and got a bite to eat with Roshani Chokshi (
The Star-Touched Queen
), and she's all sorts of amazing!! When we came back, Emily Skrutskie (
The Abyss Surrounds Us
) had arrived for her signing. It was great to meet her in real life! There was another debut author hub/reunion in the middle of the conference, and this time I literally stepped back for a second (and ate some pita chips) to commemorate and savor this moment because everyone looked so happy and just to see these people meet and interact for the first time in person was surreal and so heartwarming! I got
Seven Ways We Lie
at Riley Redgate's booth signing, and then Heidi led a procession to Emily Skrutskie's signing where I got The Abyss Surrounds Us. I also got a chance to talk to Carrie Firestone (
The Loose Ends List
).
Brittany, Meredith, and I talked to Heidi before she had to leave. Oh I miss those three already! We saw Randi Pink (
Into White
) too. I am so excited for her book. Then I headed to the Class of 2k16 event with panelists Dana Elmendorf, Emily Martin, Elizabeth Briggs, and Roshani Chokshi. The event was fun, and I can't wait to read all of their books! I've read Roshani's, and it somehow surpasses the hype.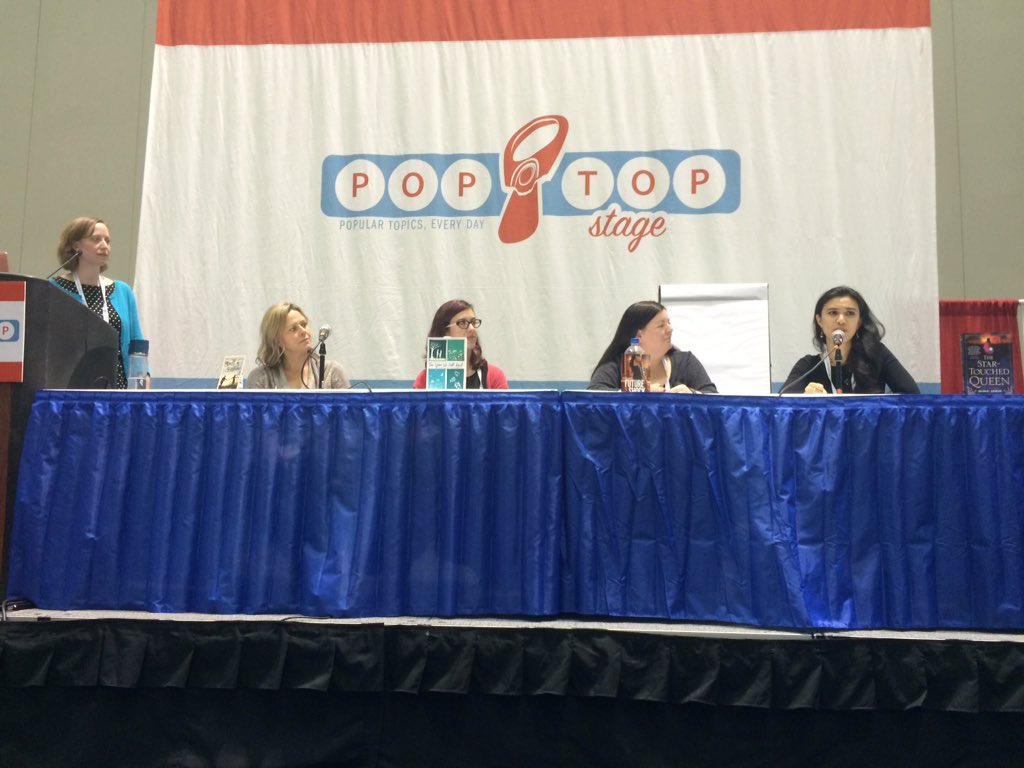 MaryKate Connolly, Dana, Emily, Elizabeth, Roshani
The panel was a great way to end the day, and as I looked around the convention floor some melancholy set in since I didn't want it to end. ALAMW was an unforgettable experience that I will always treasure. I can't wait to go to my next big conference whatever/wherever it may be!
a Rafflecopter giveaway
Rachel is a teenaged unapologetic fangirl and perfectionist.
She loves reading for the escape it gives from reality and enjoys crying over books, swooning over characters, and laughing out loud over funny lines. She is a semi-recovering Netflix addict and a middle child of three.
You can find her on Twitter
@yaperfectionist
&
Goodreads
.