I'm stoked to be on this blog tour because Front Lines is such a powerful and exciting novel! Thanks so much Hannah for letting me join the tour :)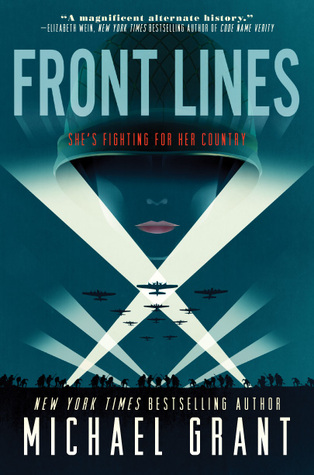 Author: Michael Grant
Series: Soldier Girl #1
Genre: YA Historical Fiction
Page Length: 576 Pages
Publication Date: January 26th, 2016
Publisher: Katherine Tegen Books
Source: ARC via publisher
LINKS:
Goodreads
|
Amazon
|
B&N
|
iBooks
|
The Book Depository
Perfect for fans of The Book Thief and Code Name Verity, New York Times bestselling author Michael Grant unleashes an epic, genre-bending, and transformative new series that reimagines World War II with girl soldiers fighting on the front lines.

World War II, 1942. A court decision makes women subject to the draft and eligible for service. The unproven American army is going up against the greatest fighting force ever assembled, the armed forces of Nazi Germany.

Three girls sign up to fight. Rio Richlin, Frangie Marr, and Rainy Schulterman are average girls, girls with dreams and aspirations, at the start of their lives, at the start of their loves. Each has her own reasons for volunteering: Rio fights to honor her sister; Frangie needs money for her family; Rainy wants to kill Germans. For the first time they leave behind their homes and families—to go to war.

These three daring young women will play their parts in the war to defeat evil and save the human race. As the fate of the world hangs in the balance, they will discover the roles that define them on the front lines. They will fight the greatest war the world has ever known.
With such a captivating premise, Front Lines already stands out in the YA genre. After reading the novel, I can firmly say this is one of my favorite reads as of recent.
In an alternate history, women are allowed to fight and be drafted in World War II.
Front Lines
follows three women in the army, and through these points of view Grant tackles three very real issues in our world present in WWII and now.
Rio is an all American girl from a small town in California. She faces unimaginable challenges after joining the army through her fellow soldiers, training, combat, and people in general. Sexism is such a cringe-worthy yet important part of this novel. I felt like screaming feminism cheers throughout this book. Woohoo girl power!! I loved seeing Rio beat everyone's expectations and stay strong amid all the doubt, distain, and derogatory comments sent her way. She's got some romantic feelings to sort out in the next book, but the romance in this story was so cute!!
Another point of view follows poor African American Frangie as she aspires to be a medic. We get a firsthand account of all the cruelties and racism towards African Americans, and it's literally the worst. Frangie joins the war to help pay her family's bills, and I love her devotion and dedication to her work. She perseveres in light of all the adversity.
The third main character is Rainy, a Jewish girl with a sharp mind and tongue. I really like her fiery personality, and I love how she takes charge of situations. Rainy is proud to be Jewish and doesn't take crap from anyone.
I commend Grant for his fierce attention to sexism, racism, and anti-Semitism because they do need to be addressed. These issues were infused and helped the plot along but didn't overtake it, which I greatly appreciated. The pacing of the book was wonderful, and I was hooked from the very beginning. There's lots of action with a side of romance and plenty of character growth. I also really liked the authenticity of the history and the nostalgic feel of the time period. Learning the military lingo was quite fun too!
Grant tells the story in three alternating points of view, and they really contribute and round out the story. The story is ultimately told from one person writing out the events and ruminating and guessing in areas; it lends a bit of mystery to the story. I really want to know who's actually telling the story, they're supposedly in the story...
This book does eventually focus on war and the front lines, and I think this has to be my favorite part of the novel. In this second half of the novel we really see the main characters change their perspectives on life and humanity. It's utterly fascinating and so well written. It's a bit sad but completely absorbing at the same time.
a Rafflecopter giveaway
I'm the co-author or author of about 160 books, including the ANIMORPHS series, the GONE series, the BZRK series, the MAGNIFICENT 12 series (Mommy, make him stop saying series!), the MESSENGER OF FEAR series, and soon (well, eventually) the SOLDIER GIRL series.

The best way to reach me is at Twitter @MichaelGrantBks. I also have a personal Facebook page at AuthorMichaelGrant, but that's limited to 5000 friends and apparently I actually have that many. Who knew?

I hope you'll give my books a try. If you don't like one, that's cool, I don't like every book I read, either. But maybe give them a try. People seem to like them.

Now, my publishers want me to sell you on my stuff, so I'll do two brags: 1) Everything I write is like nothing you've ever read before in young adult literature. I don't copy, I don't imitate, I don't clone. 2) I know how to end a series.

And that's my advertisement. Thank you.
Follow the Tour:
Rachel is a teenaged unapologetic fangirl and perfectionist.
She loves reading for the escape it gives from reality and enjoys crying over books, swooning over characters, and laughing out loud over funny lines. She is a semi-recovering Netflix addict and a middle child of three.
You can find her on Twitter
@yaperfectionist
&
Goodreads
.