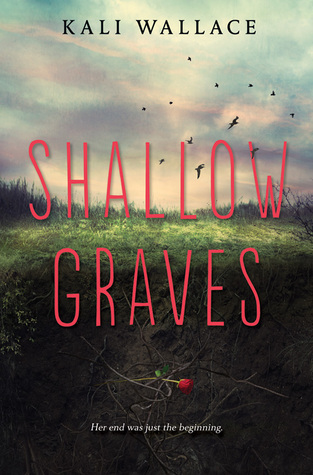 Author: Kali Wallace
Genre: YA Paranormal
Page Length: 368 Pages
Publication Date: January 26th, 2016
Publisher: Katherine Tegen Books
Goodreads
|
Amazon
|
Barnes & Noble
|
Book Depository
|
Kobo
|
iTunes
For fans of Holly Black and Nova Ren Suma, a gripping, hauntingly atmospheric novel about murder, revenge, and a world where monsters—human and otherwise—lurk at the fringes.

When seventeen-year-old Breezy Lin wakes up in a shallow grave one year after her death, she doesn't remember who killed her or why. All she knows is that she's somehow conscious—and not only that, she's able to sense who around her is hiding a murderous past. In life, Breezy was always drawn to the elegance of the universe and the mystery of the stars. Now she must set out to find answers and discover what is to become of her in the gritty, dangerous world to which she now belongs—where killers hide in plain sight and a sinister cult is hunting for strange creatures like her. What she finds is at once empowering, redemptive, and dangerous.

Tense, complex, and wholly engaging, Shallow Graves is a stunning first novel from Kali Wallace.
Interview with Kali Wallace
1. If you were in the same position as your MC Breezy Lin, what's the first thing you'd do when you woke up in a shallow grave? Where would you go? <-- I'd probably go to In-n-out burger ;)
Well, now that you mention it, I could go for some In-n-Out right now…
Okay, but seriously, because I am far less adventurous than my character, I would probably get to the nearest hospital and cling to the nurses wailing, "
What's wrong with meeeeeeeeeee??? What's happening???
" and pleading for them to fix me for as long as I could plausibly get away with it. I have no shame about that. There would be tears. Big noisy snotty tears.
And I would refuse to believe that I didn't need to eat anymore. I love to eat. Not being able to taste delicious things would be a fate worse than magical undeath.
2. What is the hardest part of writing a mystery/horror novel?
This is probably one of those things a writer of horror is not meant to admit in public, but the hardest part for me is that I have very little idea when what I'm writing is the right degree of scary, or the right degree of gory, or when I go too far or not far enough. Nothing ever
feels
scary to me when I'm writing it, even when I can recognize, rationally, that I am employing the same tools other writers use that scare me as a reader. Nor am I very good at telling when my gore is getting a bit too gory.
I have to go through a lot of trial-and-error, a lot of rewrites, to get the balance right. It's tough because so much horror is getting the creepiness just yet, and building it with the right application of dread, so everything leads up to the right impact at the right moment. I like to think that's something I'll get a better feel for with more practice.
3. What type of research did you do for
Shallow Graves
?
Most of the research I did was reading about monster and creatures from various folklores and mythologies around the world. I didn't use the vast majority of it--turns out I didn't need quite as many monsters as I thought I would, alas!--but it was so much fun I don't mind that I haven't used that research. Yet. I haven't used it yet! I still might some day. Weird creatures from folktales all over the world never go to waste, do they?
4. Do you have any advice for writers/aspiring authors?
Keep writing. Keep writing until you finish the story, then keep revising it until it's as good as you know how to make it. Don't write just one story or one novel and try to browbeat the world into recognizing its brilliance. Write one, then write another, and another, and another. Keep writing new and different things. You'll get better. And eventually one of those stories will be the one that people notice.
5. This is your debut novel, how has the experience been so far? What are you most looking forward to next year as you debut?
It has been fantastic and exciting and just a wee bit overwhelming. I wouldn't trade it for the world. I've gotten to know some of the best people in the literary world among other 2016 debut authors, and they've made this whole mad mad process so much more fun than it would have been if I'd been trying to do it alone. Writing is a lonely act, but being an author doesn't have to be, and I am so grateful to have a group of other writers along for the ride. I can't wait for all of their books to be out in the world--I've got epic recommendations for upcoming 2016 novels!
About the Author
Kali Wallace studied geology and geophysics before she decided she enjoyed inventing imaginary worlds as much as she liked researching the real one. Her short fiction has appeared in Clarkesworld, F&SF, Asimov's, Lightspeed Magazine, and Tor.com. Her first novel will be published by Katherine Tegen Books in 2016. She lives in southern California.
a Rafflecopter giveaway
Rachel is a teenaged unapologetic fangirl and perfectionist.
She loves reading for the escape it gives from reality and enjoys crying over books, swooning over characters, and laughing out loud over funny lines. She is a semi-recovering Netflix addict and a middle child of three.
You can find her on Twitter
@yaperfectionist
&
Goodreads
.