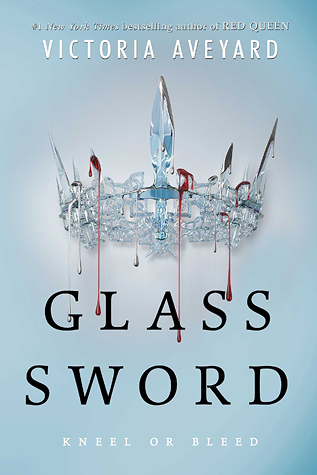 Author: Victoria Aveyard
Series: Red Queen #2
Genre: YA Fantasy
Page Length: 448 Pages
Publication Date: February 9th, 2016
Publisher: HarperTeen
Source: ARC via publisher
Goodreads | Amazon
Mare Barrow's blood is red—the color of common folk—but her Silver ability, the power to control lightning, has turned her into a weapon that the royal court tries to control.

The crown calls her an impossibility, a fake, but as she makes her escape from Maven, the prince—the friend—who betrayed her, Mare uncovers something startling: she is not the only one of her kind.

Pursued by Maven, now a vindictive king, Mare sets out to find and recruit other Red-and-Silver fighters to join in the struggle against her oppressors.

But Mare finds herself on a deadly path, at risk of becoming exactly the kind of monster she is trying to defeat.

Will she shatter under the weight of the lives that are the cost of rebellion? Or have treachery and betrayal hardened her forever?
It pains me to say this, but the second book in the Red Queen quartet pales in comparison to book 1 in nearly all areas in my opinion. The proverbial cobwebs have been wiped away, and I'm left completely disenchanted with Red Queen after my quick re-skim and Glass Sword after a thorough read.
In Glass Sword, Mare races to find all the Reds like her who have special powers before Maven can get to them. As new alliances form and true colors come out, Mare must be careful when deciding whom to place her trust in.
This review might turn into a long rant, and first I need to address Mare. I loved her thievery and spunk in
Red Queen
, yet she felt so cold and detached in this book. She's a mere shadow, no, a
husk,
of the person she was before.
Her selfishness and foolishness are constant warring issues in this book. She never learns, and at times she clearly just doesn't care about things that she should.
It was completely frustrating having to follow this girl along the story. I liked all the secondary characters, especially as they never let Mare get away with her own ignorance. Mare's transformation in this book is frightening and just plain sad. I think this is supposed to be character development, but it just feels wrong.
Oh the romance.... It's a tangled web of eye-roll-worthy, cringing, and cheesy lines and tropes. While Red Queen teases and confuses readers, Glass Sword simply annoys us. There's so much time spent denying their love and lots of reiterations of weak statements like "we will only distract one another." There is a kiss here and there, lots of looks filled with longing, and searing touches that hold far greater meaning. Overall the romance still leaves me confused!
The action sequences are rapid and far fewer than I'd expected. They were also highly confusing. Maybe because Mare is confused and disoriented, we are too? Half the time I had to go back and reread sections because
the scenes were so hard to follow or unclear
. This book lacked any and all humor or lightheartedness. Even
Allegiant
managed to sneak some in, and
that
was a truly depressing book. I liked the new characters introduced to the book. I'd recommend rereading or skimming
Red Queen
before starting this because there are references to events and names that I hardly recall.
I enjoyed
Red Queen
even though it has all of the usual book/movie/tv show entertainment gimmicks. Special powers. Love triangle. Ordinary Girl Turned Rebel. Social Unrest. Revolution. And many more. It's so
highly unoriginal and basically a smorgasbord of everything ever done
, yet it works. In this book sadly it does not.
This book starts off slow and doesn't really pick up until page 350. The last ninety pages of this book are insanely epic and potentially worth a 4-star rating, but the first 350 pages hardly condone a 1-star rating.
The plot is slow-going for most of the book until the explosive climax
. I must admit Aveyard definitely knows how to keep readers on the edge of their seats near the end of her books. This ending reads like a cliffhanger for a trilogy, and I honestly have no idea how Aveyard is going to draw out two more books.
Both Red Queen and Glass Sword have consistently ended on a high note. It's like a sick joke, these books infuriate you so much and then hook you at the end! I didn't really enjoy this book, but I must know what happens next.
Rachel is a teenaged unapologetic fangirl and perfectionist.
She loves reading for the escape it gives from reality and enjoys crying over books, swooning over characters, and laughing out loud over funny lines. She is a semi-recovering Netflix addict and a middle child of three.
You can find her on Twitter
@yaperfectionist
&
Goodreads
.