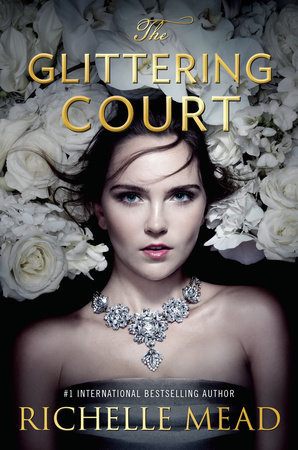 Author: Richelle Mead
Series: The Glittering Court #1
Genre: YA Fantasy
Page Length: 416 Pages
Publication Date: April 5th, 2016
Publisher: Razorbill
Source: ARC via Publisher
Goodreads | Amazon
Big and sweeping, spanning the refined palaces of Osfrid to the gold dust and untamed forests of Adoria, The Glittering Court tells the story of Adelaide, an Osfridian countess who poses as her servant to escape an arranged marriage and start a new life in Adoria, the New World. But to do that, she must join the Glittering Court.

Both a school and a business venture, the Glittering Court is designed to transform impoverished girls into upper-class ladies capable of arranging powerful and wealthy marriages in the New World. Adelaide naturally excels in her training and even makes a few friends: the fiery former laundress Tamsin and the beautiful Sirminican refugee Mira. She manages to keep her true identity hidden from all but one: the intriguing Cedric Thorn, son of the wealthy proprietor of the Glittering Court.

When Adelaide discovers that Cedric is hiding a dangerous secret of his own, together, they hatch a scheme to make the best of Adelaide's deception. Complications soon arise—first, as they cross the treacherous seas from Osfrid to Adoria, and later, when Adelaide catches the attention of a powerful governor.

But no complication will prove quite as daunting as the potent attraction simmering between Adelaide and Cedric. An attraction that, if acted on, would scandalize the Glittering Court and make them both outcasts in wild, vastly uncharted lands. . . .
The Glittering Court
. It has so many fascinating components weaved together in a way that somehow works. With strong characters, adorable romance, and many intertwined plot conflicts, this series definitely has a lot going for it.
Wanting to escape a loveless pending marriage and a stifling lifestyle, Adelaide assumes her servant's identity to join the Glittering Court, a business and finishing school that takes low-class girls and transforms them into educated, proper women fit to marry wealthy men looking for wives in the new Osfridian colonies across the treacherous sea. As Adelaide struggles to hide her true identity, she must spin even more lies and sometimes hurt the ones she loves.
The main character, Adelaide is a witty, highly opinionated person. I love her tenacity and will to change her fate. It was quite comical seeing her learn how to do such mundane tasks such as mending and cleaning dishes. Cedric, the Glittering Court owner's son, is an intellect and extremely kind gentleman. I felt their connection from the very beginning, and I love their sassy banter and electrifying chemistry.
As much as I enjoyed the romance, the friendships in this novel surpass that. I wish more books would contain wonderful friendships like this book does. Tamsin is a fiery, driven, and ambitious person who has a sentimental and fiercely protective side. Mira has so much inner strength and wisdom. Together the three work together and support one another. I love this friendship, and I'm so glad Richelle included it in her story.
I felt this book had three distinct parts. At first I was immediately swept up in the world-building and the pretty dresses and opulence. Eventually the pace slowed down for me as they entered the voyage section of the book, but it quickly picked up again. This book went through highs and lows in terms of pacing, but overall it was an easy, engaging read.
This book had so many fascinating elements. I really liked how this book had influences of Elizabethan culture yet later on in the book there's a new frontier/wild west vibe. Of course the scenes of luxury especially piqued my fancy. There is a large cast of characters, and I had a bit of trouble keeping up with all of them. I was also expecting a bit more from the fantasy label of this book, but there are no magical or supernatural elements.
I'm pretty sure the next two books will follow Tamsin or Mira as Adelaide's storyline is resolved by the end of this book. I'm curious, so I'll definitely continue with this series. If you're into books with historical settings, great friendships, and a great lead main character, I think you'd like this book!