Meet the Newbies is a blog event dedicated to introducing you to the "newbie" published debut authors. In this event, expect to learn more about the authors, their books, and silly fun facts! Check out the full Meet the Newbies lineup
here
.
Roshani Chokshi's debut
The Star-Touched Queen
, has been on my radar ever since I first heard the book sold to SMP. Over time I've gotten to know Roshani and met her at ALAMW. She is such a kind and wonderful person, and her book is phenomenal. Her prose is beautiful, and I can't wait for you all to read this special book!
Author Most Likely To Pretend Giant Dog is Actually A Luck Dragon
Nickname: The UnChosen One
First Day of School: April 26, 2016
Homeroom: St. Martin's Griffin/Macmillan
Grade: Young Adult Fantasy
Extracurricular Activities: Granting wishes on the sly, but never how you expect them to turn out; sassing ogres; using the words "carved" or "glass" in pretty much ANYTHING I write.
Favorite Class: How to Train Your Dragon
Favorite Quote/Motto: "I am thinking of aurochs and angels, the secret of durable pigments, prophetic sonnets, the refuge of art. And this is the only immortality you and I may share, my Lolita." - Nabokov
Interview:
1. Describe your book in 5 words.
Stars, love, life and pain.

2. Your writing is simply stunning. It's so eloquent and descriptive, and I must ask: Where did you learn to write like that? What (or who) has influenced your writing?
I think my personal style has always been a bit purple, but I really found my own voice from reading and re-reading my favorite authors like Angela Carter, Vladimir Nabokov, Catherynne Valente, Holly Black and Laini Taylor. Those authors taught me how to push myself from something that was just pretty to something powerful. At least, I hope that's what my readers think! I try to restrain hemorrhaging adverbs and adjectives for an image that I hope will resonate emotionally.

3. There are so many beautiful elements infused in The Star-Touched Queen. What is your favorite creation? (I think mine is the glass garden.)
I loooove the glass garden too, but I think my favorite is the Night Bazaar! I seriously want to go shopping there...

4. Maya has a horoscope that promises death and destruction. What would your horoscope be in that world?
She lived as she wrote: fitfully and with many false starts.
5. TSTQ's romance is one of my favorites. Why did you choose Hades and Persephone as the tale you'd retell?
One of my favorite teachers in highschool taught a class called EVIL English. We read stuff like Othello and Paradise Lost. Watched The Godfather and Dangerous Liasons. IT WAS AN AWESOME CLASS (THANKS COACH CROOK!) It was in that class where I first heard Lucifer's famous line: "I'd rather reign in hell than serve in heaven." That got me thinking about the Persephone tale. What if she chose to be the queen of something dreadful rather than an eternal spring maiden? What if she understood the tradeoff and chose power? To me, that question informed a lot of Maya's character. It also romanticized the Hades & Persephone myth because it gave the Persephone character a lot more choice/say in her fate.
6. What was the hardest part of writing The Star-Touched Queen?
Finishing it. I always think that's the hardest thing about writing. For me, it's easy to get those first 10k on paper. After that, I'm meandering, double-tracking, adding unnecessary frills to the setting, showing off my vocabulary, preening, plucking, throwing in the kitchen sink...basically anything except for writing: The End.
7. I really love The Star-Touched Queen's cover. What was the cover design process? Did you have any input? What was your reaction when first viewing the cover?
We had a lot of fun coming up with the cover, and I definitely felt like I had some input. Basically, it was going back and forth with a couple of key images — girls with stars, trees, evening skies, etc...— with our incredible designer Danielle Fiorella. When I first saw the cover, I was standing in line to board an airplane. I gasp-cried. It was ugly. People scooted away from me.
8. Can you tell us a little bit about your latest WIP?
Right now, I'm working on a heist fantasy set during La Belle Epoque in Paris!
9. What has been the highlight of the debut experience so far?
Interacting with readers. It has been so rewarding meeting and talking to people. Reader enthusiasm for TSTQ is one of my biggest inspirations.
10. What do you like to do in your free time besides write/read?
Eaaaaat. Buy makeup. Go on walks. Take pictures and filter the life out of them. Annoy my loved ones. Make horns to put on my giant bear dog. :)
About the Book: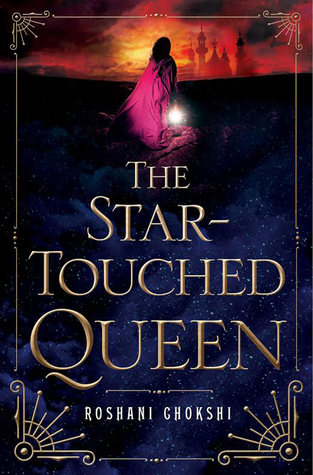 Cursed with a horoscope that promises a marriage of Death and Destruction, sixteen-year-old Maya has only earned the scorn and fear of her father's kingdom. Content to follow more scholarly pursuits, her world is upheaved when her father, the Raja, arranges a wedding of political convenience to quell outside rebellions. But when her wedding takes a fatal turn, Maya becomes the queen of Akaran and wife of Amar. Yet neither roles are what she expected. As Akaran's queen, she finds her voice and power. As Amar's wife, she finds friendship and warmth.
But Akaran has its own secrets - thousands of locked doors, gardens of glass, and a tree that bears memories instead of fruit. Beneath Akaran's magic, Maya begins to suspect her life is in danger. When she ignores Amar's plea for patience, her discoveries put more than new love at risk - it threatens the balance of all realms, human and Otherworldly.
Now, Maya must confront a secret that spans reincarnated lives and fight her way through the dangerous underbelly of the Otherworld if she wants to protect the people she loves.
Book Buy Links:
Goodreads
|
Amazon
|
Barnes and Noble
About the Author:
Roshani Chokshi comes from a small town in Georgia where she collected a Southern accent, but does not use it unless under duress. She grew up in a blue house with a perpetually napping bear-dog. At Emory University, she dabbled with journalism, attended some classes in pajamas, forgot to buy winter boots and majored in 14th century British literature. She spent a year after graduation working and traveling and writing. After that, she started law school at the University of Georgia where she's learning a new kind of storytelling.
Social Media Links:
Website
|
Twitter
|
Goodreads
|
Instagram
a Rafflecopter giveaway
Have you read this book? Why are you excited to read it? If a stranger offered to whisk you away from a horrible life, would you go?