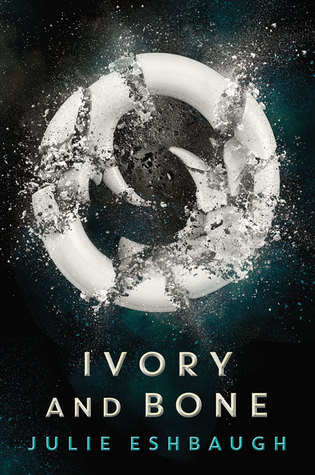 Author: Julie Eshbaugh
Series: Ivory and Bone #1
Genre: YA Fantasy
Page Length: 384 Pages
Publication Date: June 14th, 2016
Publisher: HarperTeen
Source: ARC
Goodreads | Amazon
The only life seventeen-year-old Kol knows is hunting at the foot of the Great Ice with his brothers. But food is becoming scarce, and without another clan to align with, Kol, his family, and their entire group are facing an uncertain future.

Traveling from the south, Mya and her family arrive at Kol's camp with a trail of hurt and loss behind them, and hope for a new beginning. When Kol meets Mya, her strength, independence, and beauty instantly captivate him, igniting a desire for much more than survival.

Then on a hunt, Kol makes a grave mistake that jeopardizes the relationship that he and Mya have only just started to build. Mya was guarded to begin with—and for good reason—but no apology or gesture is enough for her to forgive him. Soon after, another clan arrives on their shores. And when Mya spots Lo, a daughter of this new clan, her anger intensifies, adding to the already simmering tension between families. After befriending Lo, Kol learns of a dark history between Lo and Mya that is rooted in the tangle of their pasts.

When violence erupts, Kol is forced to choose between fighting alongside Mya or trusting Lo's claims. And when things quickly turn deadly, it becomes clear that this was a war that one of them had been planning all along.
I've been excitedly following updates Ivory and Bone ever since I first heard about its sale in 2014, and it's only grown over time as I discovered the cover, the synopsis, and the spectacular author of this book. Opening to the first page of this book felt like an exciting start to a long journey, a blast to the past.
Kol, the eldest son of the clan leader, knows change is coming to him and his clan. As the clan struggles to determine if they should move because of the dwindling food supply, Kol also has another pressure to find a suitable wife. He meets the stubborn and guarded Mya from another clan and although it's pretty clear those two are being set up, they both create a dislike for one another. As another rival clan comes into the story, tensions rise and calls of war sound.
There aren't many young adult books on the Ice Age time period, and Ivory and Bone already stands out for this reason. There is proof of extensive and fascinating research on the era, and the details Julie feeds the readers catapults us into that time. She weaves in so much interesting culture and traditions that give this book a sense of wonder. I could see the mammoths, I swayed to the clan's music, I paddled as fast as I could through the water along with Kol.
I must praise Julie on her inimitable style and writing techniques that really make this book shine. There's one aspect in particular I'm referring to that I won't give away, it's a nice surprise that you'll discover on your own. It's a bold move that I believe really works to this book's advantage. Julie wrote this book in such a unique and powerful way that really strengthens the storyline and our connection to the characters. I wish I could say more, but I'll leave it at this. The way Julie tells the story feels more personal, and it allows Kol to draw more conclusions, think more clearly on past events and how he felt at the time and what he was thinking etc...
In Ivory and Bone the two central characters are essentially being groomed as the next leaders of their respective clans. Seeing them make the hard choices, determine the type of leaders they'd want to be in the future, and how they'd want to lead was amazing. There is no love triangle in this book to clarify as many have been asking. The slow-burn romance is both infuriating and lovely at once. It's one of those stories where you ache for them and just want to scream "KISS ALREADY" and potentially mash their faces together... A big part of this story is about change. There is so much change happening in this story and little do they know that more is coming! I mean it is the Ice Age.
Ivory and Bone is an electrifying start to a unique and addictive duology that I can't wait to finish!
Rachel is a teenaged unapologetic fangirl and perfectionist.
She loves reading for the escape it gives from reality and enjoys crying over books, swooning over characters, and laughing out loud over funny lines. She is a semi-recovering Netflix addict and a middle child of three.
You can find her on Twitter
@yaperfectionist
&
Goodreads
.