Meet the Newbies is a blog event dedicated to introducing you to the "newbie" published debut authors. In this event, expect to learn more about the authors, their books, and silly fun facts! Check out the full Meet the Newbies lineup
here
.
Kerri Maniscalco is such a kind and hilarious author. She makes me want to eat pizza on a daily basis, and her gif-usage is unparalleled! I'm currently reading her debut novel, a historical mystery novel,
Stalking Jack the Ripper
, and it's spectacular. This is definitely a book that should be on your watch list, so here is Kerri!
Author Most Likely To Be A Stormtrooper for Halloween
Nickname: Kerri Sunshine
First Day of School: September 20, 2016
Homeroom: jimmy patterson/Little, Brown
Grade: YA Gothic Horror
Extracurricular Activities: Reading, Sherlock Fangirl Club, Model Crime Investigation, Forensic Science Lab, School Journalism, Bookstagram Photography.
Favorite Class: Muggle Studies
Favorite Quote/Motto: "Our doubts are traitors, And make us lose the good we oft might win, By fearing to attempt." — William Shakespeare
Interview:
1. Describe your book in five words.
Victorian CSI set in London.
2. I hear that
Stalking Jack the Ripper
is gory, creepy, and mind-bending. Can you share the most fascinating (or gruesome) thing you learned in your research for SJTR?
Oh my gosh. There was SO much gruesome research involved with the pre-writing phase of this book. Everything from reading Ripper case details written by the medical examiners who'd been involved, to studying pictures of the crime scenes themselves was pretty intense. I wanted to make sure that the violence against the women wasn't being glorified, though. I felt very strongly that I needed my main character, Audrey Rose, to get in there and look past the gore to find justice for them. That said, one of the most unpleasant things I had to research was what a body smelled like after major trauma. I'm very grateful for current medical examiners who post this information online. And I'm super grateful for my mews. I had my cat snuggled next to me during most of the creepy scenes. She's braver than Mommy, by far.
3. If you could spend a day in the setting of your novel, what would you do? Where would you go?
Great question! Let's see. I'd want to attend a high tea, but maybe skip the whole corset-wearing part. I love Victorian dresses, but am also a fan of breathing, so… I'll settle for sundresses and converse. Then I'd like to tag along with Audrey Rose when she creeps through foggy streets, stalking the killer. I'd also like to do the whole tourist thing: see Big Ben, the tower of London, the palace, probably ride a train to the countryside. Maybe even hang out with Audrey Rose's uncle in his forensic laboratory while he's examining a body. The usual :D
4. Can you describe your favorite aspect of being a writer?
My favorite thing about being a writer is staring down the blank page, and pushing myself to create something that didn't exist before. Even on days when it's a little harder, I love it. Honestly? I can't imagine life without writing and playing with words and language. I don't believe in competition with my peers, but I'm all about competing with myself to learn and grow and continue honing my craft. A bonus aspect about being a writer: being part of this amazingly supportive community. I love being surrounded by people who are as passionate about books as I am.
5. Your book is easily one of my (and others) most anticipated reads of 2016. How did it feel having your debut become a BEA buzz title? How was the BEA experience?
Ahhh! Thank you! Everything has been a complete whirlwind with this book—I'd been on submission with two other projects with my agent and we'd come SOOOO close—but with SJTR we had an offer within a couple weeks. That was mid-October and then news came about the buzz panel in early February and I still can't quite believe it. (Even after attending BEA!) I think because it's taken years to get here, it all feels surreal. I keep trying to bottle the whole experience up and hold it close to my heart forever.
BEA was my first ever bookish event, and it was INCREDIBLE. I got to meet so many wonderful readers (and authors!) and the response to SJTR blew me away. I seriously thought no one would want any ARCs or even know about it. I kept telling myself that just being there was an experience I'd dreamed of for six years and to let everything else go…And then…every time there was a galley drop, the ARCs were snatched up before they were set up! We even had a spontaneous signing with a line that went out the booth. I wanted to hug everyone for making it so special for me.
I also maaaaaybe had tears watching my editor talk about how she fell in love with my book during her panel. When she announced there would be two sequels I had to take a second to compose myself. It's every writer's dream to have an editor fall in love with their characters, and I think in that moment everything became Very Real. The struggle to get here was definitely worth it. Gah! I'm totally turning into a sappy mess again.
Getting to meet and take pictures and chat with online friends/bloggers/fellow Sixteeners was the absolute best, though. My only regret? Being unable to pack everyone up and take them with me.
About the Book: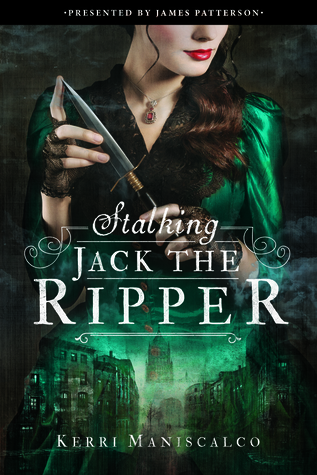 Seventeen-year-old Audrey Rose Wadsworth was born a lord's daughter, with a life of wealth and privilege stretched out before her. But between the social teas and silk dress fittings, she leads a forbidden secret life.
Against her stern father's wishes and society's expectations, Audrey often slips away to her uncle's laboratory to study the gruesome practice of forensic medicine. When her work on a string of savagely killed corpses drags Audrey into the investigation of a serial murderer, her search for answers brings her close to her own sheltered world.
The story's shocking twists and turns, augmented with real, sinister period photos, will make this dazzling debut from author Kerri Maniscalco impossible to forget.
Book Buy Links:
Goodreads
|
Amazon
|
Barnes and Noble
About the Author:
Kerri Maniscalco grew up in a small town just outside of New York City where her love of the arts was fostered from an early age. In her spare time she reads everything she can get her hands on, cooks all kinds of food for her family and friends, and drinks entirely too much tea while discussing life's finer points with her cats.
STALKING JACK THE RIPPER, her debut gothic horror, is coming September 20, 2016 from JIMMY Patterson Books/Little, Brown. It incorporates her love of forensic science and unsolved history.
Social Media Links:
Website
|
Goodreads
|
Twitter
|
Facebook
|
Instagram
|
Tumblr
|
Pinterest