Meet the Newbies is a blog event dedicated to introducing you to the "newbie" published debut authors. In this event, expect to learn more about the authors, their books, and silly fun facts! Check out the full Meet the Newbies lineup
here
.
Since
Caraval
sold I've had the immense pleasure of getting to know Stephanie, and she is truly a remarkable person. She's so kind and funny, and I absolutely love talking about books with her. Her road to publication shows her strength and perseverance, and I'm in awe. Having read her debut, I can honestly say that
Caraval
is one of my all-time favorites, and I will push this book on everyone. Here is Stephanie Garber!
Author Most Likely To Get Lost Inside Her Own Imagination
Nickname: Teffer (Because when she was very young she had speech difficulties and could not pronounce her own name)
First Day of School: January 31, 2017
Homeroom: Flatiron/Macmillan (US) and Hodder & Stoughton (UK)
Extracurricular Activities: Bike riding, Baking, Adventure-making
Favorite Class: Writing Lessons From The Movie: Back To The Future
Favorite Quote/Motto: "Her imagination was by habit ridiculously active; if the door wasn't opened to it, it jumped out the window." -Henry James, the Portrait of a Lady
Interview:
1. Describe your book in 5 words


Spellbinding Games. Sisterhood. Love. Betrayal



2. Caraval is easily one of my most favorite books ever. I love the idea of the game Caraval. If you had the chance would you participate in Caraval? How far would you go? Who would you want as a partner/companion in the game?


Oh, thank you for saying that, Rachel! I wrote Caraval, because I wanted to create a world I'd like to visit, so I would definitely want to play! I'd pick my sister as my partner—and I'm not just saying that because this is a book about sisters. My sister is my best friend, and similar to one of the sister's in Caraval, my sister is also much more adventurous than I am, so I know she would make it more fun. I would hope that I'd make it to the end of the game—although I could also see myself becoming distracted by some of the magical shops.



3. I love all of the magical wonders that appear in Caraval. I really want one of those dresses that alters into a new fashion each day! What was your favorite creation?


Yay! I'm so glad you liked the magical dress! I also love the enchanted dress, but since I feel as if I should come up with an answer of my own, I'm going to go with the carrousel made of roses. I love roses because I think they can be both beautiful and creepy, and to me the carrousel made of roses is both of those things at the same time.



4. Can you share details about your road to publication? What was your reaction to selling Caraval? How do you feel knowing that your book has gained so much attention and buzz?
My road to publication was very difficult. Before Caraval, I'd written 5 other young adult manuscripts that didn't sell. The first novel I wrote received over 100 rejections from agents. But I was determined I could do better, so I kept writing and learning. About 100 (or more) rejections later, I found an agent with my fifth novel. Sadly, this agent informed me she was leaving the business the week after I finished writing Caraval. This was when I told my family that if Caraval didn't sell, I wouldn't write another book—I didn't think I could handle more rejections, and all the ups and downs.

Thankfully Caraval sold. And I had so many reactions! The one I remember the clearest was the morning after my agent went on submission with the book—it felt like the type of thing I would fantasize about. I remember waking up to a text message from my agent, telling me an editor had read the book the same night my agent sent it to her and she loved it. My hands started shaking and when I read it to my parents I think I may have started to cry, because it wasn't an offer, but that was the moment I knew the book would sell and it was one of the best moments of my life.

I don't know that I can adequately express how grateful I am for the attention Caraval has received. Every time someone tells me they want to read it, or that they have read it, I seriously want to send them a thank you card, hug them, or invite them over for dinner. I just so very thankful—it's also been really fun to get to know some of the bloggers who've read it (like you)!

5. And finally... now that Caraval has been pushed back to 2017, which 2017 debuts are you most looking forward to reading?


Ooh, I am so excited about so many 2017 debuts, but since that is a very unhelpful answer I've narrowed it down to seven:
MIRAGE by Somiaya Daud—I adore stories fantasy stories set in space, and I'm really excited because this one has royal intrigue, and it's said to be inspired by Somiaya's Moroccan background.
ONE OF US IS LYING by Karen McManus—when I read this pitch it made me think of a YA Usual Suspects, which is one of my favorite movies. So, I'm really eager to dive into this murder mystery.
WHEN DIMPLE MET RISHI by Sandhya Menon--I'm a sucker for stories involving arranged marriages, and I'm so excited that this one is pitched as being a romantic comedy.
GRAY WOLF ISLAND by Tracey Neithercott—Dark secrets, legendary treasure, mysterious island—what is not to love?
THE SANDCASTLE EMPIRE by Kayla Olson—I'm always attracted to books set in the future, and I love that this story takes place in the not-too-distant future, it tackles the dangers of climate change, and there's something called the Wolfpack.
DAUGHTER OF THE BURNING CITY by Amanda Foody—I've been excited for this one since it was first announced. Like Caraval, it involves a traveling show, only in this one, illusions are being murdered, which sounds like the coolest thing ever.
QALA ACADEMY by Tanaz Bhathena—Every time I read the current summary for this I feel as if I'm watching a movie trailer (and this summary is only two sentences). The mystery just sounds fascinating; I love it when a character dies and everything everyone knows about them is called into question.
About the Book: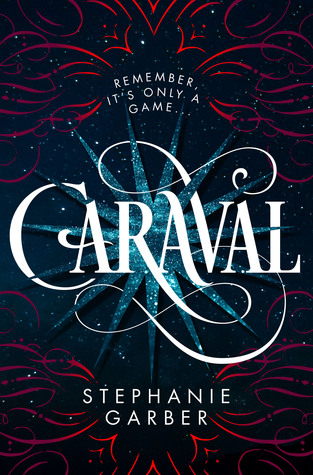 Before you enter the world of Caraval, you must remember that it's all a game . . .
Scarlett has never left the tiny island where she and her beloved sister, Tella, live with their ruthless father. Now Scarlett's father has arranged a marriage for her, and Scarlett thinks her dreams of seeing Caraval, the legendary, once-a-year performance where the audience participates in the show, are over.
Then, Scarlett's long-dreamt of invitation to Caraval finally arrives. So, Tella enlists a mysterious sailor's help to whisk Scarlett away to this year's show. But as soon as the trio arrives, Tella is kidnapped by Caraval's mastermind organizer, Legend.
Scarlett has been told that everything that happens during Caraval is only an elaborate performance. But she nonetheless soon becomes enmeshed in a game of love, heartbreak, and magic with her sister, with Legend, and with the other players in the game. And whether Caraval is real or not, she must find Tella before the five nights of the game are over, a dangerous domino effect of consequences is set off, and her sister disappears forever.
Buy Links:
Goodreads | Amazon

|
Barnes and Noble
About the Author:
Stephanie Garber loves Disneyland because it's the one place on earth where she feels as if the fantastical stories she loves to write about could actually come to life. When she's not writing young adult fantasy, she teaches creative writing at a private college in northern California, where she's known for turning assignments into games and taking students on field trips that involve book signings. CARAVAL is her debut novel.