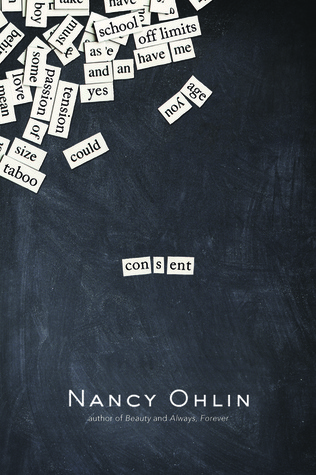 Author: Nancy Ohlin
Genre: YA Contemporary
Page Length: 288 Pages
Publication Date: November 10th, 2015
Publisher: Balzer+Bray
Source: eARC via EW (Thanks Simon!)
Goodreads
In this sexy and intriguing novel, an intense—and passionate—bond between a high school senior and her music teacher becomes a public scandal that threatens the reputation of both.

Bea has a secret.

Actually, she has more than one. There's her dream for the future that she can't tell anyone—not her father and not even her best friend, Plum.

And now there's Dane Rossi. Dane is hot, he shares Bea's love of piano, and he believes in her.

He's also Bea's teacher.

When their passion for music crosses into passion for each other, Bea finds herself falling completely for Dane. She's never felt so wanted, so understood, so known to her core. But the risk of discovery carries unexpected surprises that could shake Bea entirely. Bea must piece together what is and isn't true about Dane, herself, and the most intense relationship she's ever experienced in this absorbing novel from Nancy Ohlin, the author of Beauty.
Consent
is a book that nearly slipped past my radar. I'm so glad I decided to read it though because I found an impactful novel that was enthralling and consistently great from start to finish.
I always love to see a diversity in the cast of characters, and the main character Bea is of mixed race. I love the small quirks and nuances surrounding the characters and representation of the cultures. All of the characters were pretty strong and had such vidid personalities. Bea lives with her father who still mourns the death of Bea's mother; he copes by working tons of hours and being a neglectful parents. As a result Bea is quite independent and resourceful. She's not a rebellious kid (that would be her older brother), but she does have a forbidden passion, the piano. Bea's father can't bear to hear anyone play the piano as it reminds him of Bea's mother who was a famous pianist, so Bea keeps her talent and love for the piano buried deep within her.
I think my favorite element of the book was Bea's love for the piano. It transcended and meshed with the plot and the characters and nearly everything else in the best way possible. I love the descriptions and the feeling of total abandon we experience when Bea plays. The main draw in this book is seeing her talent and love for piano flourish and jump off the page. Nancy did such a great job capturing the feeling of losing oneself to our passions, Bea's being the piano. This book really centers more around the piano than it does on the romance of which I'm glad. I love how Nancy encourages readers to follow their dreams and fight for what makes them happy.
The romance in this book is quite intriguing. I haven't read any teacher-student relationships. I feared this one would be creepy, yet it really wasn't. It starts off more as a mentor-mentee relationship. They had a connection and it all felt genuine and not rushed at all. Dane, Bea's teacher, nourishes her talent and prods her to shoot for her dreams and ambitions. I love how well they understand each other and how they bonded over music. I strangely found myself rooting for those two! Their relationship is more than a teacher/student relationship, it's about someone helping Bea discover what she wants in life. The chemistry was static and heady too which adds another side to their relationship.
My only qualms with this book is the unrealistic nature of some of it. From the start Dane (the teacher) had such a relaxed view of interacting with his students and didn't know when to draw the line. He wasn't ever inappropriate or creepy to the students, but he invited Bea to meet him at a cafe to talk about her music and eventually she goes over his house to practice music for an audition. It's just a bit unrealistic which was annoying and made the story feel a bit less authentic.
The ending is bittersweet yet perfect. I breezed through this book, and I'd highly recommend it to contemporary readers who want forbidden love and immense character growth.