Heather Demetrios is one of my favorite contemporary authors, and I absolutely love and respect her latest novel that centers on manipulative and abusive relationships. This book really taught me so much, and I hope people caught in a similar situation as Grace, the main character of
Bad Romance,
find their peace. I am thrilled to join the
Bad Romance
blog tour with some tips for self worth.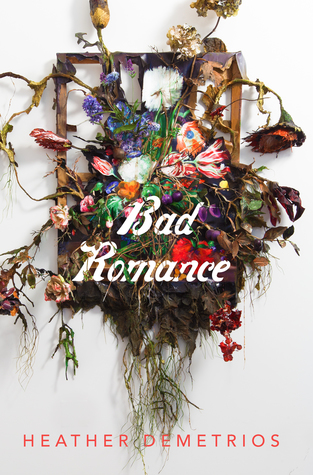 Author: Heather Demetrios
Genre: YA Contemporary
Page Length: 368 pages
Publication Date: June 13th, 2016
Publisher: Henry Holt/Macmillan
Source: Publisher
Goodreads
|
Amazon
Grace wants out. Out of her house, where her stepfather wields fear like a weapon and her mother makes her scrub imaginary dirt off the floors. Out of her California town, too small to contain her big city dreams. Out of her life, and into the role of Parisian artist, New York director—anything but scared and alone.

Enter Gavin: charming, talented, adored. Controlling. Dangerous. When Grace and Gavin fall in love, Grace is sure it's too good to be true. She has no idea their relationship will become a prison she's unable to escape.

Deeply affecting and unflinchingly honest, this is a story about spiraling into darkness—and emerging into the light again.
1. Be selfish
- I learned this one the hard way. I never could say "no" to others. I would put other people's priorities and desires before my own and spend all of my time helping others with tasks as opposed to doing what is best for myself. I learned that I need to be aggressive and assertive at times. There is nothing wrong with being selfish every once in awhile. You are your own greatest cheerleader, and you need to always be there to stand up for yourself and determine what is best for you.
2. Surround yourself with true friends - Grace has such amazing friends in Bad Romance that always look out for Grace's best interests. They always share their honest opinion and go to great lengths throughout Bad Romance to make sure Grace is safe. Do not stay with people who manipulate or insult you. These people will hold you back and don't have the best intentions.
3. Find a support system - Similar to the second tip, find a group of people that will support you, bolster your confidence, and cheer you up in times of need. Find someone (or someones) that you can talk to when things get tough or alternately find an outlet that helps calm you down when things get tough.
4. Be proud of your accomplishments - This is another tip I've found myself using whenever I start to doubt myself and my abilities. Look back on your accomplishments and be proud of what you've done so far.
5. Believe in yourself - This is the greatest tip I can give. Believe in yourself. You matter. You are amazing. Never forget that.
Bad Romance comes out next Tuesday!
Schedule:
5/30:
Dark Faerie Tales
5/31:
Swoony Boys Podcast
6/1:
Tales of the Ravenous Reader
6/2:
Pink Polka Dot Books
6/3:
It Starts at Midnight
6/4:
Paper Trail YA
6/6:
Alexa Loves Books
6/7:
The Unofficial Addiction Book Fan Club
6/8:
A Perfection Called Books
<-- that's me!
6/10:
Forever Young Adult
6/11:
Book Loving Nut
6/12:
Eater of Books
6/13:
Here's to Happy Endings
Do you have any tips for self worth that you would like to share?
Rachel is a teenaged unapologetic fangirl and perfectionist.
She loves reading for the escape it gives from reality and enjoys crying over books, swooning over characters, and laughing out loud over funny lines. She is a semi-recovering Netflix addict and a middle child of three.
You can find her on Twitter
@yaperfectionist
&
Goodreads
.