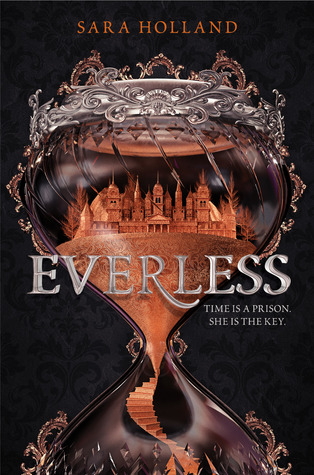 Author: Sara Holland
Genre: YA Fantasy
Series: Everless #1
Page Length: 368 pages
Publication Date: January 2, 2018
Publisher: HarperTeen
Source: Publisher
Goodreads
|
Amazon
In the kingdom of Sempera, time is currency—extracted from blood, bound to iron, and consumed to add time to one's own lifespan. The rich aristocracy, like the Gerlings, tax the poor to the hilt, extending their own lives by centuries.

No one resents the Gerlings more than Jules Ember. A decade ago, she and her father were servants at Everless, the Gerlings' palatial estate, until a fateful accident forced them to flee in the dead of night. When Jules discovers that her father is dying, she knows that she must return to Everless to earn more time for him before she loses him forever.

But going back to Everless brings more danger—and temptation—than Jules could have ever imagined. Soon she's caught in a tangle of violent secrets and finds her heart torn between two people she thought she'd never see again. Her decisions have the power to change her fate—and the fate of time itself.
Interview with Sara Holland
I absolutely loved Sara Holland's debut novel,
Everless,
a story where time is literally money! With such a captivating concept and stellar world-building, I couldn't help but fly through this novel. As such, I'm thrilled to join the blog tour. Thanks to Glasstown Entertainment for organizing. Today Sara Holland visits the blog to discuss her novel!
1. Describe your book in five words.
Twisty, magic, bloody, friendship, secrets.


2. "Everless" centers around such a unique and fascinating concept, time acting as currency. How did you come up with the idea of "Everless"?



Around when I first started drafting EVERLESS, I was just out of college, trying to make it in a new city and working two jobs to make ends meet. Every spare moment was precious, and I often found myself wishing I could magically procure more time. That got me thinking about what a world would be like where you could actually do that, and the cost it might have.




3. I absolutely love your book cover, can you talk about the design process?



I love it too, and had very little to do with it! But my publisher, Harper, designed a concept, and ran it by the whole team, including me, to make sure everyone was on board. Once they'd found a concept that everyone liked, they then found an illustrator to bring it to life. I was in love the moment I saw it.




4. If you lived in the world of Everless, would you ever consume a time coin? What would it taste like?



While I'd like to think that I would nobly abstain, if I really was in that world, I would probably consume blood-iron just because that's what people do. It would taste gross though, like iron and rust. There's a reason the characters always mask it with wine or honey...




5. Which shows would your book characters binge on Netflix?



I love this question! I think Jules would be drawn to feel-good shows to get a break from her life, like The Unbreakable Kimmy Schmidt. Roan would watch whatever everyone else is watching, so he could chat up girls about it. Liam would watch something brainy and dark, like Hannibal or Westworld; and Ina would go for drama and romance, like Grey's Anatomy.




6. What has been the best moment in your publishing journey so far?



It's hard to choose--there have been so many amazing moments--but maybe when I went to the HarperCollins office for a publicity meeting and they surprised me with the very first ARC!




7. What other 2018 book releases are you looking forward to?

There are so many! The Hazel Wood, The Belles, Ash Princess, The Midnights, Down and Across, Legendary, Sky in the Deep... just to name a very few!
About the Author:

Sara Holland grew up in small-town Minnesota among hundreds of books. She graduated from Wesleyan University and worked in a tea shop, a dentist's office, and a state capitol building before heading to New York to work in publishing. These days, she can be found exploring the city's bookstores or finding new ways to put caffeine in her bloodstream. EVERLESS is her debut novel

.
Website
|
Twitter
|
Instagram
|
Goodreads
|
Facebook
Tour Schedule:
Have you read Everless? What are some of your favorite time-related books?
Share in the comments below!
Rachel is a teenaged unapologetic fangirl and perfectionist.
She loves reading for the escape it gives from reality and enjoys crying over books, swooning over characters, and laughing out loud over funny lines. She is a semi-recovering Netflix addict and a middle child of three.
You can find her on Twitter
@yaperfectionist
&
Goodreads
.